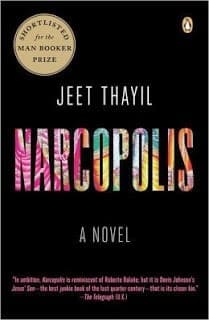 Here at The Poisoned Pen, we never shy away from the grittier things in life. In fact, we like it grisly, murderous, complicated, metaphorical, fantastic, and everything else in the entire range of literature. Maybe because we can see our characters losing control over their lives, we are instantly drawn to the drama that will ensue, or maybe it is the vicarious thrill of doing something dangerous and illegal, something that we would not dare to do in real life. Whatever the reason: murder, incest, violence, sex "˜n' drugs "˜n' rock "˜n' roll, they are all superb backdrops to a really great story. We have reviewed books about drug culture before. 
The Panopticon
 was a huge success as a novel and is reported to have secured a 
movie deal
 to be made by Ken Loach. Annoyingly, it will have to have a different name as there is already a movie that came out in 2012 with the name "Panopticon".
Right name, wrong movie
It is the same situation with "Narcopolis". The novel by 
Jeet Thayil
 won the DSC prize for South Asian Literature in 2013, quite an achievement for a first novel, but if a movie version is ever made it will have to be under a different name to avoid confusion with a 
futuristic thriller
 coming out later this year (2014). The novel is set in the Bombay (now Mumbai) of the 1970s and is the story of several characters who are already part of the opium scene descending further into their own personal hell. Part of the fascination with the novel rests with the author himself. Thayil was an alcoholic and drug addict for twenty years so when he writes of the hallucinations and the cravings, you know that he is speaking from experience, which makes the fate of his characters even more poignant. If you are worried that this genre of fiction glamorizes drugs and substance abuse, rest assured that there is nothing glamorous about the actions of any of the characters.  In fiction, as in real life, 
the reality of addiction is dark and desperate
.
The main characters
Rashid is an opium house owner and it is in his den that we meet the other characters. In a way, he is proud of his den. He has the best opium, the best hostess, and the best reputation of all the dens. As he begins to get sucked down into the opium life, however, he starts to lose his grip on it all. His business falls away, unable to compete with the newer, nastier, quicker and harder hitting drugs of the 1980s, and yet he is now powerless to do anything about it.
Dimple is the center of this almost plot-less novel. She is the opium den hostess, a eunuch who turned to opium to relieve the pain of her operation, only to find a whole new world of pain opening up. It is her skills at making up pipes of opium that help to draw other people into the den, yet she is more aware than anyone else in the novel of what is waiting at the end of the line. She is a truly tragic figure, in that she cannot escape her fate. Customers who come and go from the den have a choice of whether to walk away from opium, or stay and spiral into addiction. Dimple has never had that choice, and she faces her ultimate demise with fortitude, fighting only with an attempt to educate herself in order that her life not be wasted.
Mr. Lee's story is, in a way, the story of opium itself, escaping from China to India. It is he who leaves Dimple his genuine Chinese opium pipes in his will, in exchange for her promise to return his ashes to China, a promise she never manages to fulfill. Of all the characters, we get more back story of Mr. Lee, possibly because it is through him that the opium pipes come to Dimple and thence to Rashid's den. By the book's end, heroin and its offshoots have taken over as the self-obliteration of choice, and Rashid's son runs the den like a business, with total contempt for his staff and customers. In the way that we all love the era in which we were young, no matter what the economic and political situation around us, the opium den with its horrors is viewed with nostalgia.
Style
Thayil was a poet before he was a novelist and his skills with words shows throughout the novel. The first chapter of the book is one long, breathless sentence that makes your head spin and your heart race, much as an opium high might do. It is a book both painful and sad, and yet it manages to be funny in places as it flicks from one character to another without much happening directly, while outside the den, Bombay grows up and changes into a harsher version of itself.
Reviewed by Anonymous