It's fine to bring drinks into The Pen but we ask that you consume the food offsite or outside
---
Restaurants on our block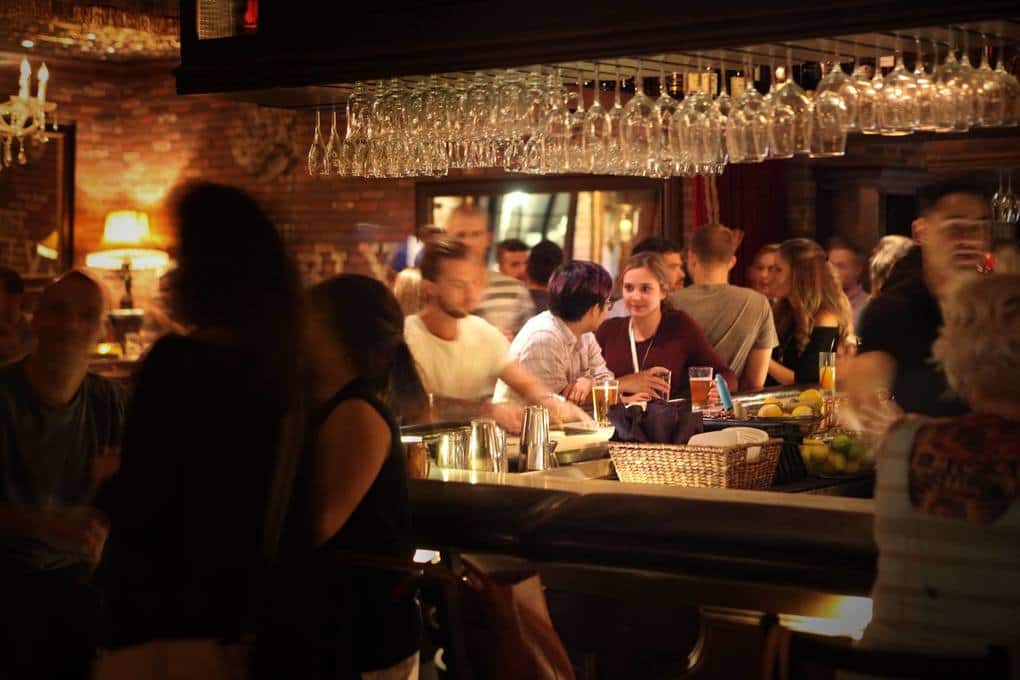 The Beverly On Main (just a few steps east of the Pen)
7018 E Main St.
Open daily 4pm – 2am
https://www.beverlyonmain.com/
Gastropub meets craft cocktails. Intimate venue with a great happy hour!  Full bar, shareable dishes, entrees, vegan options, desserts.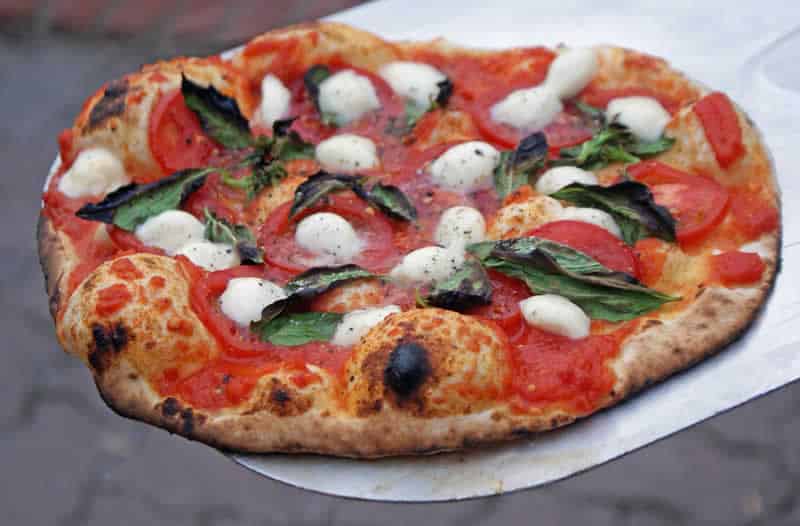 Craft 64
6922 E Main Street 480.946.0542
Hours:
11am-10pm Sun-thur
11am-12am (Midnight) Fri and Sat
Happy Hour:
Every Day 3 to 6 pm
Artisanal pizzas, 35 beers on tap, wine list, charcuterie, and a killer kale/pear salad. Very small, tucked in next to The Tortilla Factory.   The best BLT in the Valley!
Pizzeria Virtu
6952 E Main Street 480.663.9797
TUES-SAT  5PM -10PM
celebrated Scottsdale, AZ chef and restaurateur Gio Osso of Virtù Honest Craft opens a casual yet elegant spinoff concept called Pizzeria Virtù right down the street from Virtù Honest Craft in Old Town Scottsdale. The focus of Pizzeria Virtù is Neapolitan pizza, and the menu will also feature Italian small plates and a selection of salads, as well as Italian cocktails and wine. The pizzas will be authentically Neapolitan, as Osso is a certified Pizzaiolo by the Accademia della Pizza Napoletana "" a denomination of control (DOC) established by the Italian government "" a legal entity able to give special designation to individuals who meet strict requirements that respect the tradition of the art of Neapolitan pizza making. At Pizzeria Virtù, Osso channels his Italian heritage and frequent travels to the region to offer diners a true taste of Naples in the Southwest.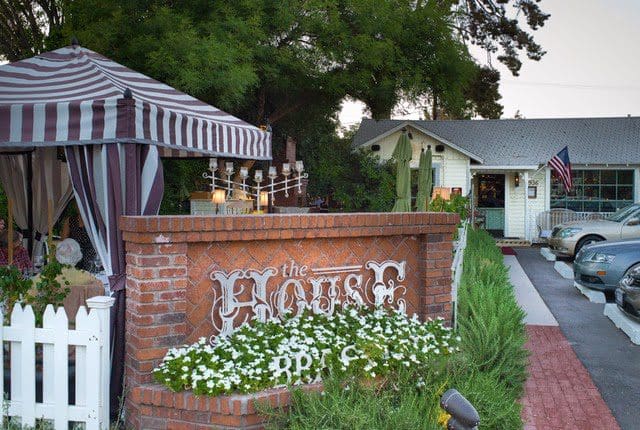 The House Brasserie
6936 E Main Street 480.634.1600
Monday-Saturday 5 PM-10PM
Sundays – closed
A vintage chic, cozy old house. Full bar. Small plates and regular entrees.
The Cornish Pasty (south from The Pen)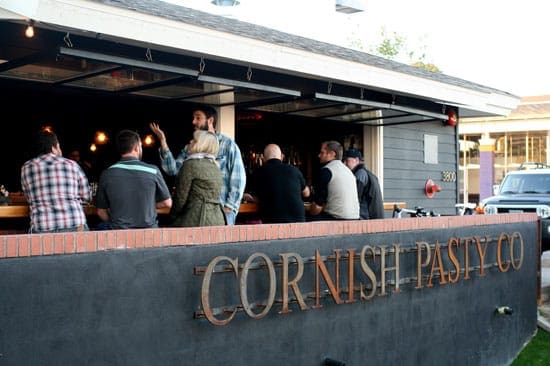 3800 N. Goldwater 480.945.1220
https://www.cornishpastyco.com/
11AM "" Midnight
Informal. Well priced and filling. Vegetarian pasties, bangers and mash, soups, salads. Beers and a bar. Service can be inattentive so pay attention. Our staff's go-to for eating in or takeout back to The Pen.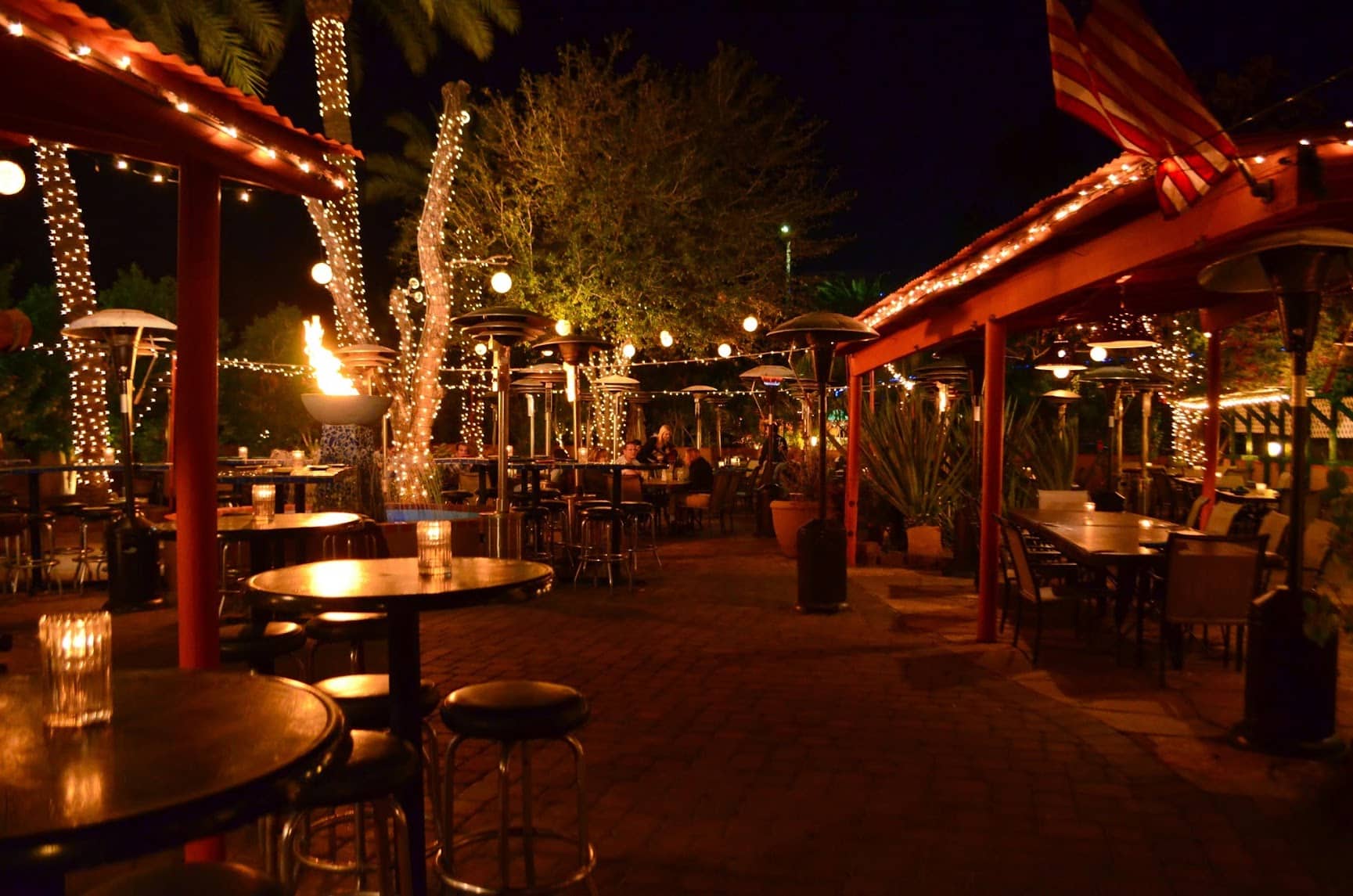 The Tortilla Factory
6910 E Main Street 480.945.4567
Sun-Thurs 5pm-9pm
Friday-Sat 5pm-10pm
Hip crowd, can be crowded weekends.
Go for the margaritas and guacamole
https://oldtowntortillafactory.com/
---
Restaurants within easy walking distance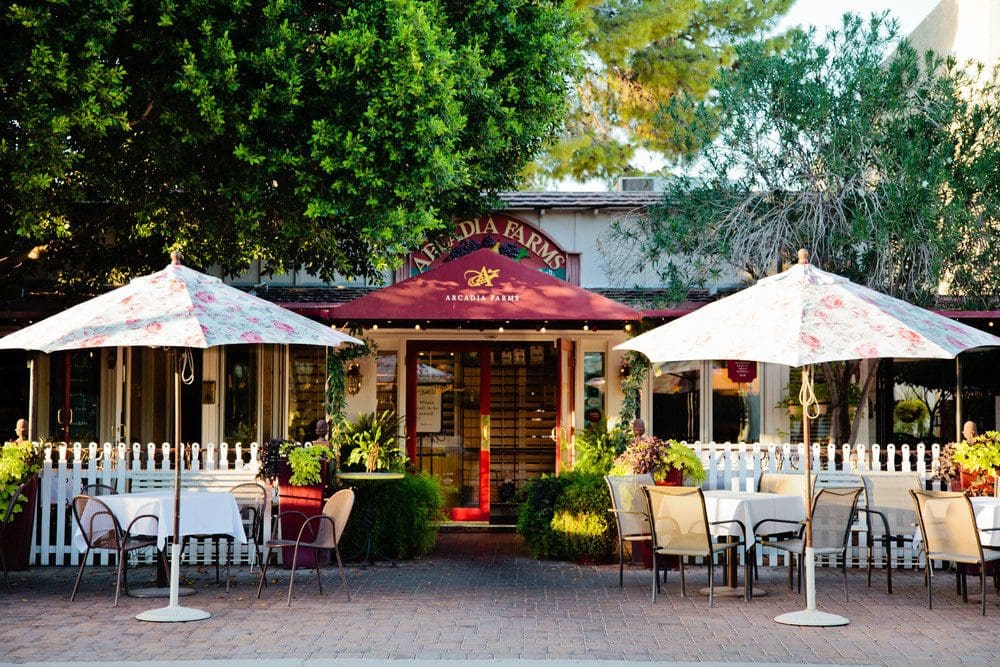 Arcadia Farms (half a block east from The Pen)
7014 E First Avenue 480.941.5665
Great for Saturday afternoon events
Carry out in the deli extension to
the east next door
Malees on Main Thai Bistro
7131 E Main St, Scottsdale, AZ 85251
Sunday 4″"8PM Monday  Closed Tuesday4″"8PM Wednesday4″"8PM Thursday4″"8PM Friday4″"9PM Saturday4″"9PM
Longtime favorite of the PP staff.  Casual restaurant serving Thai standards and wine in an art-adorned space with hardwood floors.   Excellent food and terrific ambiance.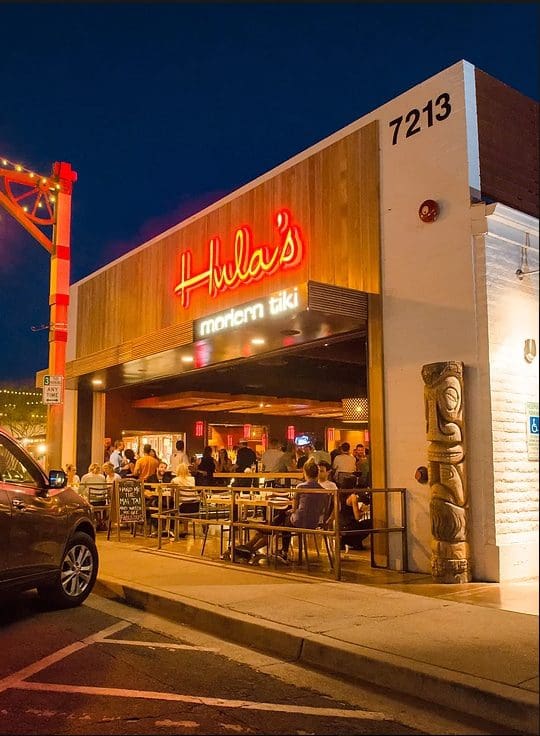 Hula's Modern Tiki Scottsdale
Happy Hour 3-6pm. An easy walk from The Pen with a fun vibe and quick service.
They're menu is extensive and is a fusion of Polynesian and American flavors. Try them once, you'll be hooked.
M-Su 11am-10pm
7213 E 1st Ave, Scottsdale, AZ 85251
480.970.4852
https://www.hulasmoderntiki.com/
Virtu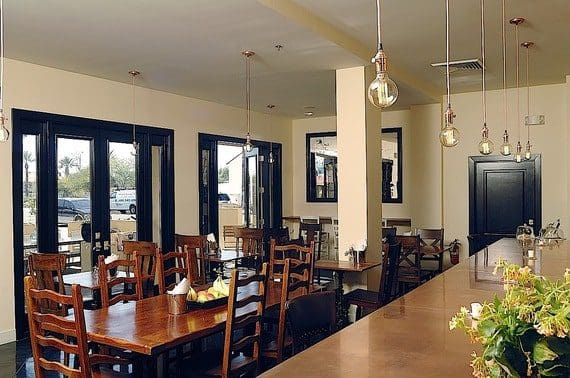 3701 N Marshall Way 480.946.3477
Reservations advised.
Tues-Sat  5PM-10PM
Menu changes. The octopus and the asparagus appetizers are basically a meal. Has a mixologist for creative drinks. The chef keeps one wine just for me, but his list is excellent. The restaurant is on the east side of Marshall Way south of Second Street, tucked inside the BeSpoke Inn. Usually easy parking on Marshall Way. 2 minute drive from The Pen.
Zuzu at the Hotel Valley Ho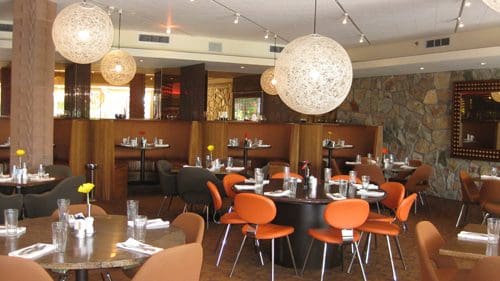 6850 E Main Street 480.421.7997
Full bar adjacent. Terrific version of Parker House Rolls. Small plates as well as entrees. Good service, patio lunch and dinner as well as inside seating. You can order small plates at the bar, too: the cheese plate is delicious.
---
Restaurants Nearby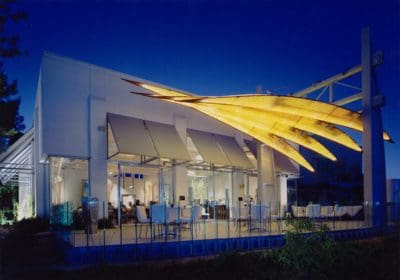 AZ 88
7353 Scottsdale Mall (west side, close to Brown) 480.994.5576
11:30 AM "" 12:30 AM daily
Chic contemporary. Martinis! Small plates and entrees. Big patio looks out of the Civic Center Mall. Has a hot vibe, can be a little noisy. The restaurant is catty-corner to Distrito, a cozy but cutting edge cuisine outpost from Jose Garces and is located inside the Saguaro Hotel. 480.970-4444; www.distritorestaurant.com. Reservations at Distrito recommended.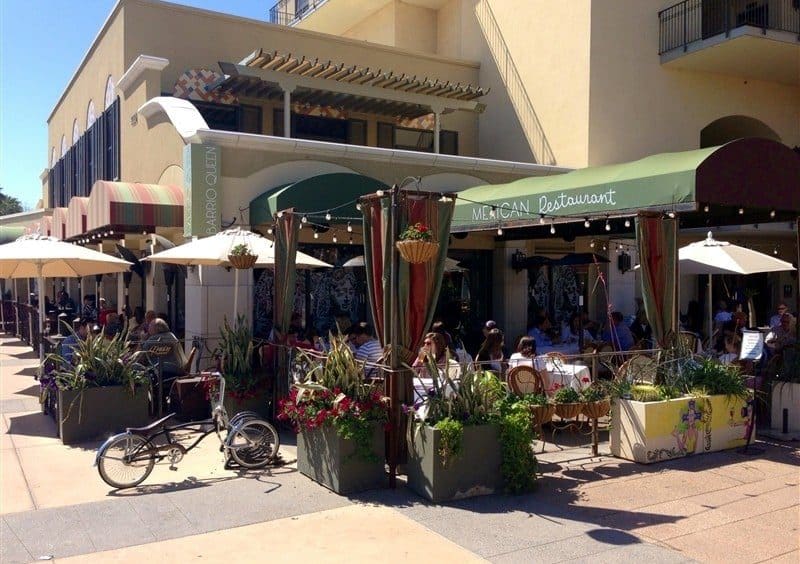 The Barrio Queen
7114 Stetson Drive 480.656.4197
11AM-11PM Mon-Thurs, 11AM-Midnight Sat, 11AM-10PM Sun.
Mexican food. a full bar, a patio with efficient misters, Dia de los Muertos décor (fun photo ops). Parking is scarce; try the underground garage you enter just to the restaurant's left off Stetson, free for 3 hours, elevator to street level.
Citizen Public House
7111 E 5th Ave, Scottsdale, AZ 85251  (480) 398 4208
Open Daily 4pm – 10pm
https://www.citizenpublichouse.com/
Upscale gastropub turning out creative New American recipes complemented by craft beers & cocktails.  Try the famous chopped salad!
Marcellino Ristorante
7114 E Stetson Dr, Scottsdale, 85251
M-Thu 4-10pm, Fri Sa 4-11pm, Su 4-9pm
This classy bar/restaurant with wood accents & brick walls features high-end Italian cuisine.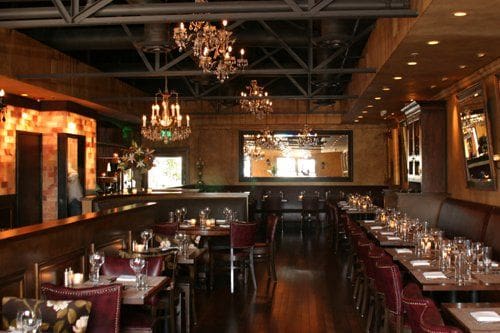 The Mission
3815 N. Brown Avenue 480.636.5005
Daily – 11AM-10PM
Reservations advised. Can be noisy inside, patios are wonderful in cooler weather.
Modern Latin cuisine. Excellent margaritas. Fabulous tableside guacamole. Outstanding bread pudding—and the mahi mahi tacos are irresistible. Parking lot across the street on Brown, can fill up.
Tapas Papa Frita
7114 E Stetson Dr #210, Scottsdale, AZ 85251
Sun-Thurs 3pm-10pm
Fri-Sat 3pm -11pm
A varied tapas menu, paella & sangria are served in this chic space with a patio & flamenco shows.
Nearby Coffee Houses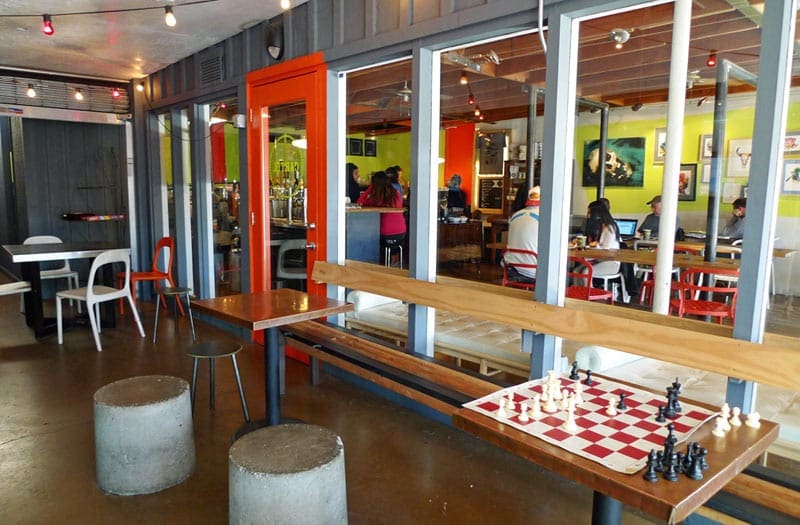 Cartel Coffee Lab
7124 E 5th Ave 480.269.3172
7AM-9PM (11PM Fri-Sat)
https://www.cartelcoffeelab.com/
Coffee, tea, & beer. They have a delicious chai, try it dirty with a shot of espresso.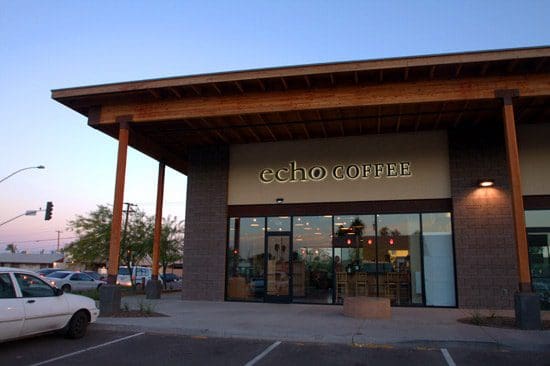 Echo Coffee
2902 N 68th St #135 (North west corner of 68th street and Thomas) 480.422.4081
6AM-10PM Daily
Their mint green tea is very refreshing in the summer heat.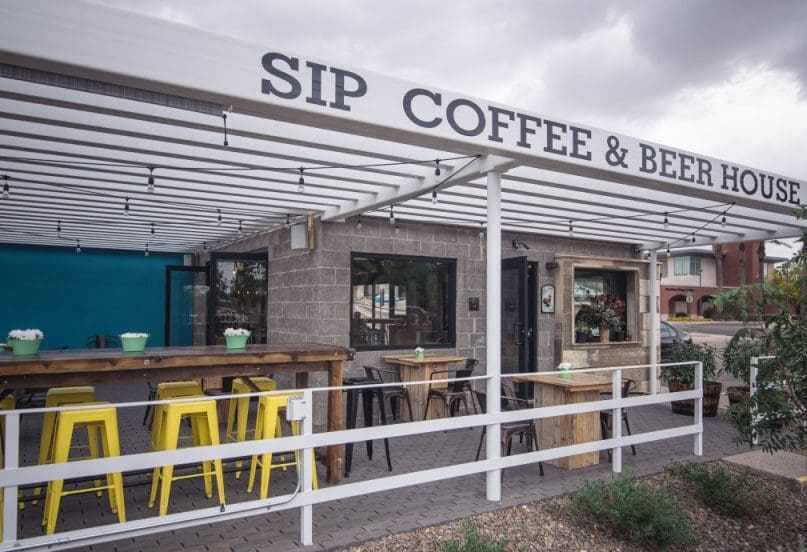 Sip Coffee & Beer House (also Tea)
3617 N Goldwater 480.625.3878
7AM-9PM  (11 PM Fri-Sun)
Offers sandwiches and "healthy" food
Starbucks 4032 N Scottsdale Rd 480.947.4578