Although The Poisoned Pen Bookstore will be celebrating its 30th anniversary throughout the year, it's not every day that the local newspaper, The Arizona Republic, covers the event. The following article was written by Kerry Lengel, but was initially only available to online subscribers of the paper. Thank you to Robert Rosenwald for this copy. Congratulations to everyone at The Poisoned Pen!
On its 30th anniversary, Poisoned Pen Bookstore has more to celebrate than just surviving.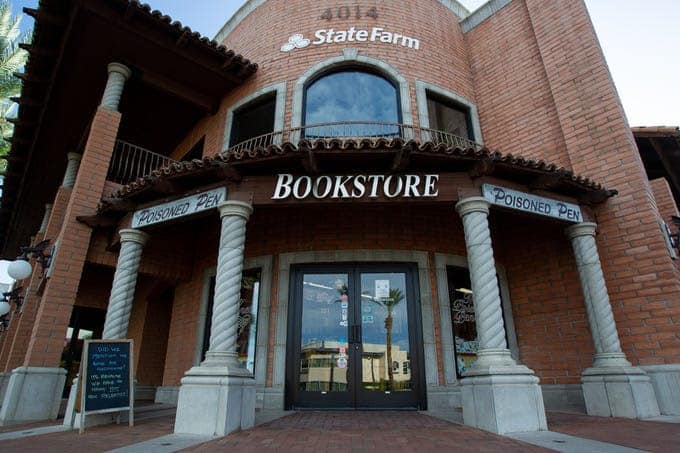 The Poisoned Pen Bookstore marks its 30th anniversary on Oct. 3, but there won't be much time to celebrate, because the Scottsdale stalwart will be hosting a sold-out event for horror writer Joe Hill and his new collection of short stories, "Full Throttle."
And as far as owner Barbara G. Peters is concerned, that's just as it should be. Her insistence on keeping the spotlight on the authors is one of the reasons her homey bookshop has survived the rise and fall of Borders and continues to thrive in the age of Amazon.
"It took me years to get publishers to send authors to Phoenix," Peters says. "They thought it was just a flyover place with a few cows and no readers. So we started out small, but now we have a huge list of celebrity authors, many of whom start their book tours here, because we are so successful."
It's the "˜home bookstore' of Diana Gabaldon and Clive Cussler
Diana Gabaldon at her Paradise Valley home on May 14, 2014. (Photo: Rob Schumacher/The Republic)
At the top of that list is Scottsdale favorite daughter Diana Gabaldon, creator of the epic "Outlander" series of time-traveling romance. She and other best-selling writers sign truckloads of first editions for Poisoned Pen, making it a neighborhood bookstore with global reach: Peters says 70% of her customers are outside Arizona — and 20% outside the U.S.A.
"That all just kind of happened, thanks to "˜Outlander' and Diana, thanks to Clive Cussler, Sue Grafton and Doug Preston," she says. "We're their home bookstore, and they have fans all over the world."
Gabaldon's long association with the bookstore includes a writers-in-residency program launched in 2015 to nurture new talent.
"Out of thirty years of books and launch events, one thing that sticks out is the memory of pre-signing 4,000 books in two hours," Gabaldon says. "Mind you, signing at that rate means having a crew of five people helping you — all of them skillful, coordinated, dexterous, cheerful and untiring.  Fortunately, the entire staff at the Pen meets those requirements, and we all survived the effort without so much as a paper cut."
Poisoned Pen Press will republish classic crime fiction
A display celebrating Banned Book Week at Poisoned Pen Bookstore, September 24, 2019. (Photo: Carly Bowling/The Republic)
Peters does more than sell books. As executive editor of Poisoned Pen Press, she helps to shape them, working with award-winning writers including the British crime novelist and critic Martin Edwards and Arizona's own James Sallis, whose noirish "Drive" was made into a 2011 film starring Ryan Gosling.
In January, the press became the mystery imprint for Chicago-based Sourcebooks, with Peters staying on as editor. She says selling to a larger (but still independent) publisher gives the "boutique" label the resources to take on bigger projects (and print runs).
In September, the label announced a collaboration with the Library of Congress to reprint classic American crime fiction from the 1860s to the 1960s.
"I'm working like 16 hours a day, which at my age is pretty good, trying to keep it all straight," says Peters, who is 78.
A triumph out of tragedy
It's a feel-good success story that started out as a real-life horror story. That's because Peters opened Poisoned Pen with money from a medical malpractice judgment after a botched surgery left her partially paralyzed.
Barbara G. Peters started Poisoned Pen Bookstore 30 years ago. (Photo: Carly Bowling/The Republic)
Born and raised in the Chicago area, Peters had earned two master's degrees, worked at the Library of Congress, and was studying to become a lawyer in Virginia when she was with diagnosed with breast cancer.
But after starting a double mastectomy in 1981, doctors discovered the diagnosis was mistaken, she says. Then, during a second surgery for breast reconstruction, complications nearly killed her and left her paralyzed below the waist, although she has since recovered the use of one of her legs.
"It was horrible, but I survived it, and my life has been much better since," she says in typical matter-of-fact fashion.
"˜We were ahead of the curve'
After winning a sizable cash judgment in court, Peters had the resources to reinvent her life, and in 1989 she moved to Arizona, where her parents were living, and opened the Poisoned Pen with her future husband, Robert L. Rosenwald.
It was a specialty shop focused on mysteries, although the focus has expanded over the years to include historical fiction and the literature of the Southwest.
Tourists exploring the Scottsdale arts district would wander in and remark that they wished their own hometown had a bookshop like hers, Peters says. She started taking down names.
"We sent out newsletters, thousands of them, with order forms, and people sent checks," she says. "Overseas people, we had their fax numbers. It was much harder to collect money because credit cards weren't so international and PayPal wasn't up. But the point is, by the time this whole new age (of Internet commerce) came along, we were actually way ahead of the curve. …
"Publishing is so completely dysfunctional and irrational that I just couldn't resist trying things, and every time I tried things, we got bigger."
Barbara G. Peters says 70 percent of Poisoned Pen Bookstore's customers are from outside of Arizona, September 24, 2019. (Photo: Carly Bowling/The Republic)
"˜The best editor working in mysteries'
Not every experiment panned out. In 2005 she opened a second store in downtown Phoenix but was forced to close two years later.
Poisoned Pen Press, on the other hand, has succeeded beyond her wildest dreams.
It was her husband who took the lead on opening a publishing house in 1997. A "techie," Rosenwald got interested in print-on-demand technology and saw a market for republishing out-of-print mysteries, Peters says. Soon enough, they were giving emerging authors their first big break — and regularly garnering starred reviews from Publishers Weekly.
"She's a very astute editor, perfect pitch," says Jon Talton, author of the Phoenix-centric David Mapstone mysteries. (Talton is a former columnist for The Arizona Republic who now writes for the Seattle Times.)
"She makes my voice better, truer, rather than trying to impose her own," he says. "She's the best editor working in mysteries today. And I know because I started with the late Ruth Cavin at St. Martin's, who was a legend."
Peters says she learned those skills "on the job."
"The bookstore was a great training ground," she says. "As a result of talking to authors for 30 years, there's not much I don't know about how they work and what they think is important."
Poisoned Pen staff will inherit the bookstore
Last year, while working out the details of the sale to Sourcebooks, Peters started the nonprofit Poisoned Pen Foundation to develop and promote local writing talent, building on the current partnership with Gabaldon.
As for the bookstore, Peters says she has made arrangements to leave it to her employees after she dies.
"And I've told them if they decide I'm just not capable of being the CEO anymore, they need to tell me, and then I'll fade away," she says. "But I don't have any plans to retire, because it's so much fun. What else can I do?"