It seems appropriate to follow the announcement of the Library of Congress/Poisoned Pen Press partnership with Martin Edwards' article, "The Golden Age Detective Fiction Renaissance". You can find it at CrimeReads, https://crimereads.com/the-golden-age-detective-fiction-renaissance/.
After you read that, you might be interested in Edwards' own novel set in that period, in 1930, Gallows Court. You can order Edwards' books, including a signed copy of Gallows Court, through the Web Store. https://bit.ly/2lC6utB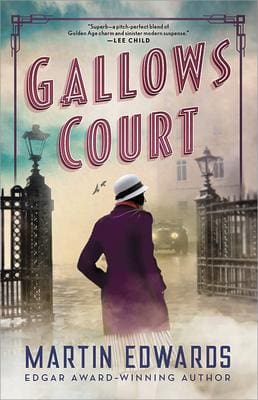 Martin Edwards doesn't summarize his latest novel in his piece for CrimeReads, but here's the description.
"Superb—a pitch-perfect blend of Golden Age charm and sinister modern suspense, with a main character to die for. This is the book Edwards was born to write." —Lee Child, #1 New York Times bestselling author
London, 1930
Sooty, sulphurous, and malign: no woman should be out on a night like this. A spate of violent deaths—the details too foul to print—has horrified the capital and the smog-bound streets are deserted. But Rachel Savernake—the enigmatic daughter of a notorious hanging judge—is no ordinary woman. To Scotland Yard's embarrassment, she solved the Chorus Girl Murder, and now she's on the trail of another killer.
Jacob Flint, a young newspaperman temporarily manning The Clarion's crime desk, is looking for the scoop that will make his name. He's certain there is more to the Miss Savernake's amateur sleuthing than meets the eye. He's not the only one.
Flint's pursuit of Rachel Savernake will draw him ever-deeper into a labyrinth of deception and corruption. Murder-by-murder, he'll be swept ever-closer to its dark heart—an ancient place of execution. Twisted family relationships add to a trust-no-one narrative positively reeking with atmosphere.