Barbara Peters and Patrick Millikin recently welcomed authors Matt Coyle and Tim Maleeny back to The Poisoned Pen. Odyssey's End is Coyle's tenth Rick Cahill novel. Hanging the Devil is Tim Maleeny's fifth Cape Weathers mysteries. There are signed copies of both books available in the Webstore. https://store.poisonedpen.com/
Here's the summary of Odyssey's End.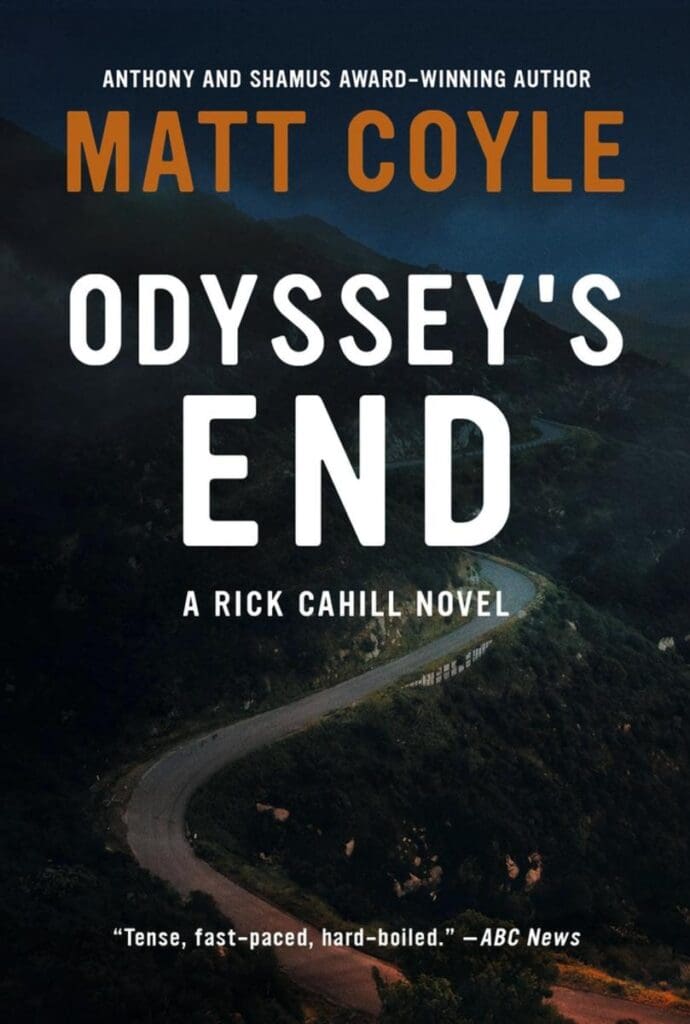 Brain disease worsening, Rick Cahill risks everything—even his life—to provide for his fractured family's future
San Diego private investigator Rick Cahill's past comes back to haunt him when he's at his most vulnerable. His wife, Leah, has fled with their daughter, Krista, to her parents' home in Santa Barbara. She fears Rick's violent outbursts brought on by his potentially fatal brain disorder, CTE—and she doesn't trust that he'll ever be able to tame his manic desire to bring his own brand of justice to an unjust world.
Rick desperately wants to reunite his family and help provide for Krista's future—one he fears he won't be alive to see. A jumpstart toward that future appears in the form of Peter Stone, Rick's longtime enemy. Stone offers Rick $50,000 to find a woman he claims can save his life with a kidney transplant. Rick can't pass up the chance to buttress Krista's future.
When what seems like a simple missing person case spirals out of control into cryptocurrency machinations, dead bodies, and an outgunned faceoff, Rick is forced to battle evil from his past. Can he stay alive long enough to see his family one last time?
Perfect for fans of Michael Connelly's Harry Bosch and Lee Child's Jack Reacher
While all of the novels in the Rick Cahill PI Crime Series stand on their own and can be read in any order, the publication sequence is:
Yesterday's Echo
Night Tremors
Dark Fissures
Blood Truth
Wrong Light
Lost Tomorrows
Blind Vigil
Last Redemption
Doomed Legacy
Odyssey's End
---
Matt Coyle is the best-selling author of the Rick Cahill PI Crime Series. He was named the 2021 San Diego Writer's Festival Mystery Writer of the Year, and his novels have won the Anthony Award, the Shamus Award, the Lefty Award, and the San Diego Book Award, among others. He has also received nominations for numerous Anthony, Macavity, Barry, Shamus, and Lefty Awards. Odyssey's End is tenth in this award-winning series. Matt is a graduate of UC Santa Barbara and lives in San Diego.
---
Here's the description of Hanging the Devil.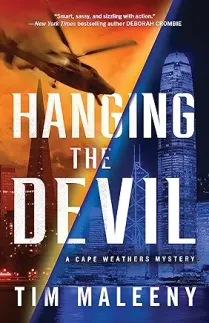 "A caper stuffed with comedy and crime…equal parts adrenaline and heart. A completely delightful read." —Gregg Hurwitz, New York Times bestselling author
"Smart, sassy, and sizzling with action." —Deborah Crombie, New York Times bestselling author
It was supposed to be a simple job: steal the paintings, leave the forgeries…
When a helicopter crashes through the skylight of the Asian Art Museum, an audacious heist turns into a tragedy. The only witness to the crash is eleven-year-old Grace, who watches in horror as her uncle is killed and a priceless statue stolen by two men and a—ghost? At least that's how the eerie, smoke-like figure with parchment skin and floating hair appears to Grace. Scared almost to death, she flees into the night and seeks refuge in the back alleys of San Francisco's Chinatown.
Grace is found by Sally Mei, self-appointed guardian of Chinatown. While Sally trains Grace in basic survival skills, her erstwhile partner Cape Weathers, private detective and public nuisance, searches for the mysterious crew behind the robbery before they strike the museum a second time. As the clock winds down, Cape enlists aid from some unlikely allies to lay a trap for a ghost who has no intention of being caught—nor of leaving any witnesses alive to tell the tale.
---
TIM MALEENY is the bestselling author of the award-winning Cape Weathers mysteries and the comedic thriller JUMP, which The Boston Globe called "hilarious" and Publishers Weekly described as "a perfectly blended cocktail of escapism." His short fiction appears in several major anthologies and has won the prestigious Macavity Award for best story of the year. A former resident of San Francisco, Tim currently lives and writes at an undisclosed location in New York City, where he is working on his next novel, a screenplay, and a book for young readers.
You can contact Tim or find out more about his writing at: timmaleeny.com
---
Enjoy the conversation with Matt Coyle and Tim Maleeny.