Barbara Peters, owner of The Poisoned Pen, recently welcomed Lev AC Rosen to the bookstore. Rosen's Lavender House was a big hit last year. Now, he follows up with the same character, Evander "Andy" Mills with The Bell in the Fog. There are signed copies available in the Webstore. https://tinyurl.com/mvrnb68w
Here's the summary of The Bell in the Fog.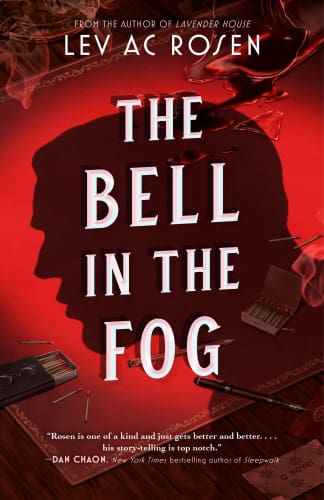 The Bell in the Fog, a dazzling historical mystery by Lev AC Rosen, asks—once you have finally found a family, how far would you go to prove yourself to them?
San Francisco, 1952. Detective Evander "Andy" Mills has started a new life for himself as a private detective—but his business hasn't exactly taken off. It turns out that word spreads fast when you have a bad reputation, and no one in the queer community trusts him enough to ask an ex-cop for help.
When James, an old flame from the war who had mysteriously disappeared, arrives in his offices above the Ruby, Andy wants to kick him out. But the job seems to be a simple case of blackmail, and Andy's debts are piling up. He agrees to investigate, despite everything it stirs up.
The case will take him back to the shadowy, closeted world of the Navy, and then out into the gay bars of the city, where the past rises up to meet him, like the swell of the ocean under a warship. Missing people, violent strangers, and scandalous photos that could destroy lives are a whirlpool around him, and Andy better make sense of it all before someone pulls him under for good.
---
LEV AC ROSEN writes books for people of all ages, including the Anthony and Lambda Literary Award nominated Lavender House. His YA novel Camp was a best book of the year from Forbes, Elle, and The Today Show, among others, and is a Lambda finalist and ALA Rainbow List Top Ten. He lives in NYC with his husband and a very small cat. You can find him online at LevACRosen.com and @LevACRosen.
---
Enjoy the conversation, including the discussion of Agatha Christie, locked room mysteries, and country house mysteries.