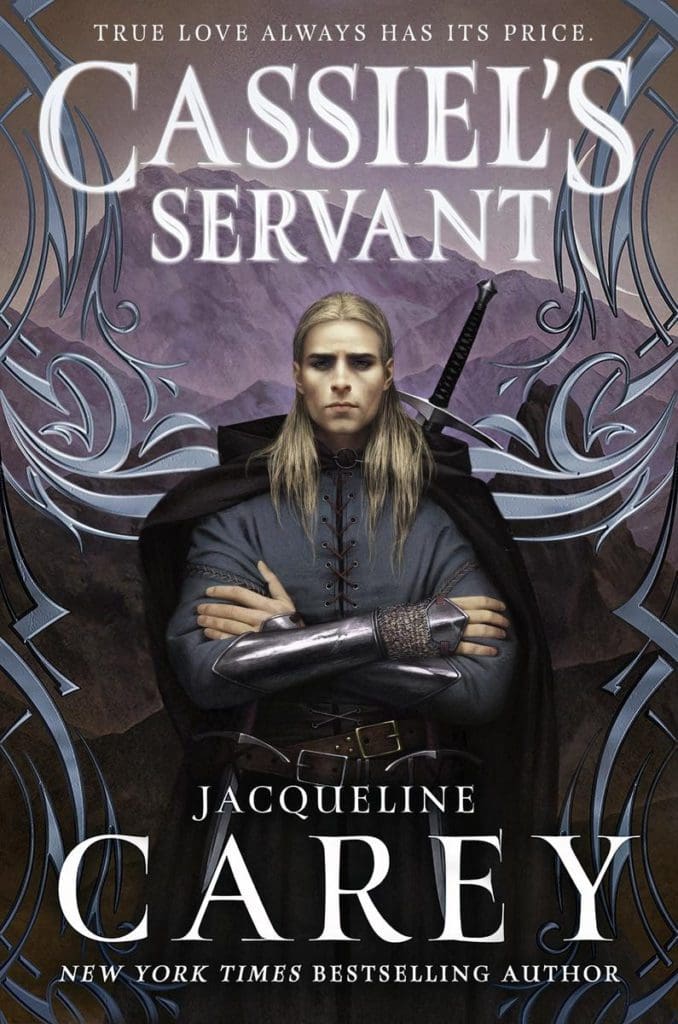 BUY TICKETS NOW
FRIDAY AUGUST 4 7:00 PM Live
Ticketed Event ($32 admits one + one signed copy of Carey's Cassie's Servant)
An Evening with Diana Gabaldon and Jacqueline Carey
They discuss Carey's epic fantasy
Cassiel's Servant (Forge $30.99)
Gabaldon fans, please note that the only book that comes with the ticket is the Carey, not one of Diana's books  
Here's the description of Cassiel's Servant.
The lush epic fantasy that inspired a generation with a single precept: "Love As Thou Wilt."
Returning to the realm of Terre d'Ange which captured an entire generation of fantasy readers, New York Times bestselling author Jacqueline Carey brings us a hero's journey for a new era.
In Kushiel's Dart, a daring young courtesan uncovered a plot to destroy her beloved homeland. But hers is only half the tale. Now see the other half of the heart that lived it.
Cassiel's Servant is a retelling of cult favorite Kushiel's Dart from the point of view of Joscelin, Cassiline warrior-priest and protector of Phèdre nó Delaunay. He's sworn to celibacy and the blade as surely as she's pledged to pleasure, but the gods they serve have bound them together. When both are betrayed, they must rely on each other to survive.
From his earliest training to captivity amongst their enemies, his journey with Phèdre to avert the conquest of Terre D'Ange shatters body and mind… and brings him an impossible love that he will do anything to keep.
Even if it means breaking all vows and losing his soul.
"Decadent and dark, Cassiel's Servant reveals the secrets of the mysterious Cassiline brotherhood. In this gorgeously realized novel, Carey returns to the world of Terre d'Ange and offers us a new and dazzling perspective on a character we thought we knew."—Nghi Vo, author of The Chosen and the Beautiful and Siren Queen
Kushiel's Legacy
#1 Kushiel's Dart
#2 Kushiel's Chosen
#3 Kushiel's Avatar
Standalones
Miranda and Caliban
Starless
The Sundering
#1 Banewreaker
#2 Godslayer
---
Jacqueline Carey is the New York Times bestselling author of the critically acclaimed and award-winning Kushiel's Legacy series of historical fantasy novels. Recent novels include the Shakespearean adaptation Miranda and Caliban and the epic fantasy standalone Starless. Carey enjoys doing research on a wide variety of arcane topics, and an affinity for travel has taken her from Iceland to China to date. She currently lives in West Michigan.
jacquelinecarey.com
Facebook.com/jacquelinecarey.author
Twitter: @JCareyAuthor
Instagram: @jcareyauthor
---
Diana Gabaldon is the #1 New York Times bestselling author of the wildly popular Outlander novels—Outlander, Dragonfly in Amber, Voy­ager, Drums of Autumn, The Fiery Cross, A Breath of Snow and Ashes (for which she won a Quill Award and the Corine International Book Prize), An Echo in the Bone, Written in My Own Heart's Blood, and Go Tell the Bees That I Am Gone—as well as the related Lord John Grey books, Lord John and the Private Matter, Lord John and the Brotherhood of the Blade, Lord John and the Hand of Devils, and The Scottish Prisoner; a collection of novellas, Seven Stones to Stand or Fall; three works of nonfiction, "I Give You My Body . . ." and The Outlandish Com­panion, Volumes 1 and 2; the Outlander graphic novel The Exile; and The Official Outlander Coloring Book. She lives in Scottsdale, Arizona, with her husband.