Reed Farrel Coleman recently appeared at The Poisoned Pen to talk about his latest book, Sleepless City. Patrick Millikin welcomed him back, and there was a lot to talk about. You can order a signed copy of the book, but you'll also want to listen to the conversation. https://bit.ly/3JYMF7T
Here's the description of Sleepless City.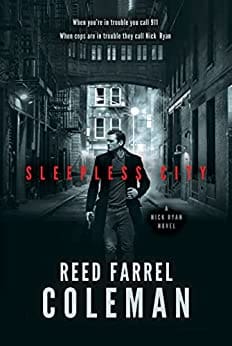 "A tour-de-force! The pace is relentless, the plot smart, his new lead character, Nick Ryan, is a hero for the times…Reed is a brilliant storyteller." — Louise Penny, #1 New York Times bestselling author
When you're in trouble, you call 911.
When cops are in trouble, they call Nick Ryan.
Every cop in the city knows his name, but no one says it out loud. In fact, they don't talk about him at all.
He doesn't wear a uniform, but he is the most powerful cop in New York.
Nick Ryan can find a criminal who's vanished. Or he can make a key witness disappear.
He has cars, safe houses, money, and weapons hidden all over the city.
He's the mayor's private cop, the fixer, the first call when the men and women who protect and serve are in trouble and need protection themselves.
With conflicted loyalties and a divided soul, he's a veteran cop still fighting his own private war. He's a soldier of the streets with his own personal code.
But what happens when the man who knows all the city's secrets becomes a threat to both sides of the law?
---
Reed Farrel Coleman, author of the New York Times bestselling Robert B. Parker's Debt to Pay, has been called a "hard-boiled poet" by NPR's Maureen Corrigan and the "noir poet laureate" in The Huffington Post. He has published twenty-five previous novels, including nine books in the critically acclaimed Moe Prager series, and most recently, What You Break, featuring Gus Murphy. A three-time winner of the Shamus Award, he has also won the Anthony, Macavity, Barry, and Audie Awards. Coleman lives with his family on Long Island.
---
Enjoy the conversation with Reed Farrel Coleman.