John Charles recently welcomed three mystery authors, all published by Crooked Lane Books, to The Poisoned Pen for a virtual Halloween event. He mentioned that they have the current books and backlist for Raquel Reyes, Gretchen Rue, and Marilyn Levinson, who writes as Allison Brook. You can find their books in the Web Store. https://store.poisonedpen.com/
Here's Raquel V. Reyes' latest book, Calypso, Corpses, and Cooking.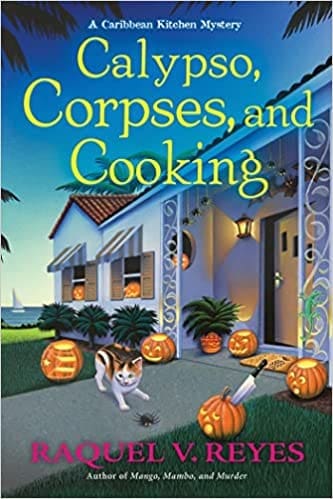 It's time for a savory soirée—but something sinister is stewing—in Raquel V. Reyes's second delightful Caribbean Kitchen mystery, perfectly delicious for fans of Mia P. Manansala.
Fall festivities are underway in Coral Shores, Miami. Cuban-American cooking show star Miriam Quiñones-Smith wakes up to find a corpse in her front yard. The body by the fake tombstone is the woman that was kicked out of the school's Fall Festival the day before.

Miriam's luck does not improve. Her passive-aggressive mother-in-law puts her in charge of the Women's Club annual gala. But this year, it's not canapes and waltzes. Miriam and her girlfriends-squad opt for fun and flavor. They want to spice it up with Caribbean food trucks and a calypso band. While making plans at the country club, they hear a volatile argument between the new head chef and the club's manager. Not long after, the chef swan dives to his death at the bottom of the grand staircase.

Was it an accident? Or was it Beverly, the sous chef, who is furious after being passed over for the job? Or maybe it was his ex-girlfriend, Anastasia? 

Add two possible poisonings to the mix and Miriam is worried the food truck fun is going to be a major crash. As the clock ticks down and the body count goes up, Miriam's life is put in jeopardy. Will she connect the dots or die in the deep freeze? Foodies and mystery lovers alike will savor the denouement as the truth is laid bare in this simmering stew of rage, retribution, and murder.
---
Raquel V. Reyes writes Latina protagonists. Her Cuban-American heritage, Miami, and Spanglish feature prominently in her work. Mango, Mambo, and Murder, the first in the Caribbean Kitchen Mystery series, won a LEFTY for Best Humorous Mystery. It was nominated for an Agatha Award and optioned for film. Raquel's short stories appear in various anthologies, including The Best American Mystery and Suspense 2022. Find her across social media platforms as @LatinaSleuths and on her website LatinaSleuths.com
---
Gretchen Rue's latest book is Steeped to Death.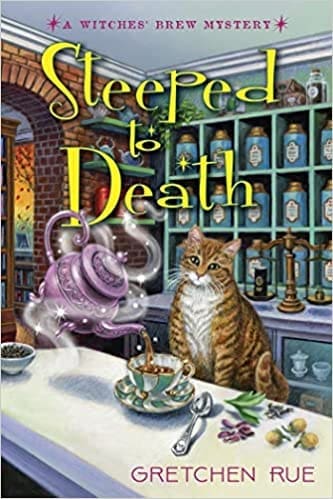 For fans of Laura Childs and Amanda Flowers, it's teatime in Raven Creek—but a murder at the The Earl's Study sets the stage for an intoxicating brew of small-town chicanery with a hint of the supernatural.
Phoebe Winchester's beloved aunt Eudora has a taste for adventure—and a knack for making magical tea. It's even rumored that she just might be a witch. So when Eudora passes away and leaves everything to her niece—her Victorian mansion, her bookshop/tea store, The Earl's Study, and one very chubby orange cat named Bob—Phoebe gets more than she bargained for. And she knows she's in deep when a dead man is found on the shop's back step, apparently killed while trying to break in.
Two suspects immediately emerge among the townspeople of Raven Creek, Washington. There's village busybody Dierdre Miller, who seems desperate to buy Eudora's house, and handsome PI Rich, one of Phoebe's childhood friends—but how well does she really know him after all these years apart?
Phoebe knows she should leave it to the professionals, but as she starts to dig into the underbelly of Raven Creek, she begins to uncover the truth about Eudora. What's more, her aunt might not have been the only witch in the family, as Phoebe soon discovers she has unique and unexpected gifts of her own.
Now, it's just a matter of putting her newfound power to the test and cast a spell that could catch a killer.
---
Gretchen Rue lives in the Canadian prairies, which affords her ample time to read during six months of winter. She plays cat mom to four mostly indifferent fur children, and plant mom to roughly 100 very demanding flora. When she isn't sipping tea and working on her next novel, she enjoys swimming, hiking, and watching baseball. 
---
Allison Brook's latest book is Dewey Decimated.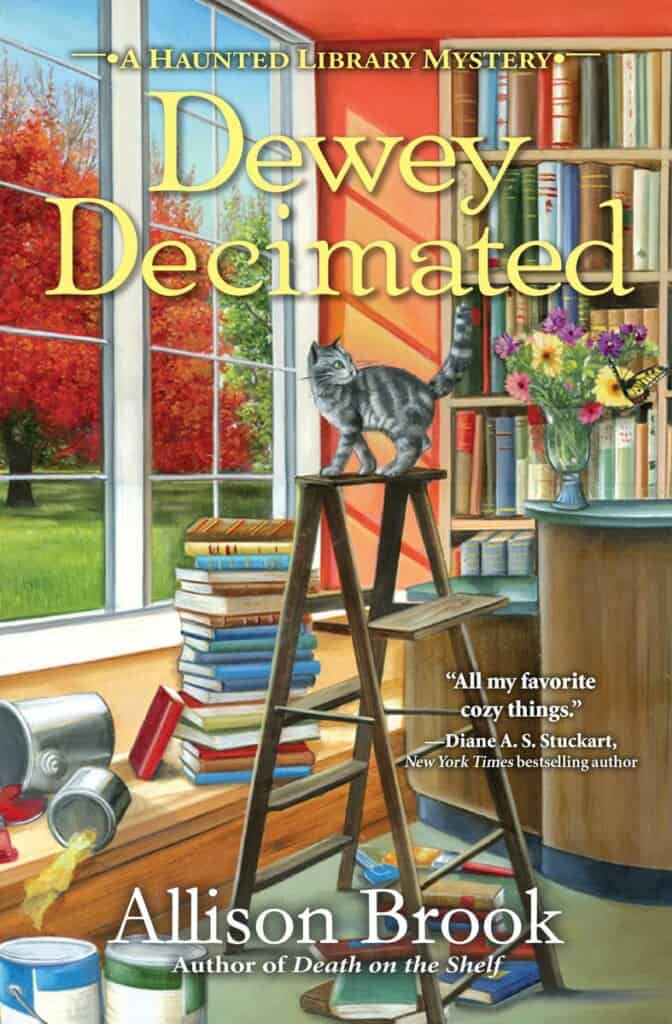 Librarian Carrie Singleton is back on the case, alongside library ghost Evelyn, in the sixth installment of Agatha Award nominee Allison Brook's Haunted Library mysteries.
Carrie Singleton is just off a hot string of murder cases centered around the spooky local library in Clover Ridge, Connecticut. She could really use a break—but no such luck, as she; Smoky Joe, the resident cat; and Evelyn, the library's ghost, are drawn into another tantalizing whodunit.
First, a dead body is found in the basement of the building attached to the library, and it turns out to be Carrie's fiancé's Uncle Alec, who Dylan hasn't seen in years. But Alec has no intention of truly checking out, and his ghost makes itself at home in the library, greatly upsetting the patrons. Carrie and Evelyn work hard to keep Alec out of sight, but what was he doing in Clover Ridge to begin with? And why was he killed?

Meanwhile, the town council, of which Carrie is also a member, is embroiled in a hot-headed debate over the fate of the Seabrook Preserve, a lovely and valuable piece of property that runs along Long Island Sound. Turn it into an upscale park? Sell it to a condo developer? Or keep it as protected land?

As the dispute rages, there's another murder, this time involving a council member. Could the two murders be connected? And could Carrie be next on the hit list? 
---
A former Spanish teacher, Allison Brook writes mysteries, romantic suspense, and novels for young readers. She loves traveling, reading, knitting, doing Sudoku, and visiting with her grandchildren, Olivia and Jack, on FaceTime. She lives on Long Island with Sammy, her feisty red cat.
---
Enjoy the conversation between the authors.