Mark Pinsky is an investigative journalist who specializes in capital murder cases. He recently appeared for The Poisoned Pen to discuss his latest true crime book, Drifting Into Darkness: Murders, Madness, Suicde, and a Death "Under Suspicious Circumstances". His guest host was Christina Estes from KJZZ radio. You can find copies of Drifting Into Darkness through the Web Store. https://bit.ly/3bEJmVa
Here's the description of Drifting Into Darkness.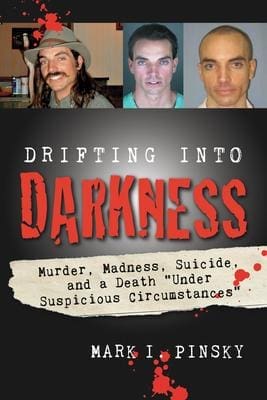 A tangled web of family dysfunction, fatal attraction, and greed wends its way from the elegant Southern mansions of old Montgomery, Alabama, to the New Age salons of Boulder and rural, windswept Wyoming in Drifting Into Darkness, a true saga of bloodshed and betrayal.
Two grisly murders—a brutal double parricide—a suicide, and a fourth death under suspicious circumstances. Drifting Into Darkness is a tangled tale of family dysfunction, fatal attraction, and greed, a saga that wends its way from the elegant Southern mansions of Montgomery, Alabama, to the New Age salons of Boulder, Colorado, to rural, windswept Wyoming.
On Thanksgiving weekend in 2004, philanthropists Charlotte and Brent Springford Sr."•a wealthy, socially prominent Montgomery couple"•were brutally beaten to death with an ax handle, echoing the infamous case of Lizzie Borden. Suspicion quickly fell on the Springfords' gifted but troubled son Brent Jr., who would be tried and sentenced to life without parole. But a mystery remained: Who was the mysterious, elusive woman who claimed to be a Native American shaman that investigators believed manipulated Brent into this murder?
Journalists solving murders is a time-tested trope in movies, mysteries, and on television. But cops and cop reporters know that rarely happens in real life. Except when it does. Veteran crime reporter Mark I. Pinsky, who covered the sensational cases of serial killer Ted Bundy and Green Beret Dr. Jeffrey MacDonald, broke the cardinal rule of journalism by involving himself in the story. Pinsky's extensive research prompted investigators to invite him to join their dogged pursuit of justice. His access to unique and heart-breaking behind-the-scenes material enables him to take readers with him into the troubled, tortured minds of the case's main players.
---
Mark I. Pinsky is a veteran investigative journalist specializing in capital murder cases. A former staff writer for the Los Angeles Times and Orlando Sentinel, his work—which has been featured in the Wall Street Journal and USA Today—has followed topics ranging from the trial of serial killer Ted Bundy to the death of Trayvon Martin. His expertise has been showcased in multiple television appearances for Investigation Discovery, TruTV, and Amazon Prime. Pinsky is the author of Met Her on the Mountain: A Forty-Year Quest to Solve the Appalachian Cold-Case Murder of Nancy Morgan and four religious books: Amazing Gifts: Stories of Faith, Disability, and Inclusion; A Jew Among the Evangelicals; The Gospel According to The Simpsons; and The Gospel According to Disney.
---
True crime readers will want to catch up with Mark Pinsky.