Fortunately for readers, the publisher did a simultaneous publication of the paperback with the hardcover because all of the hardcover copies of Matt Goldman's Carolina Moonset are sold out. You can still order a paperback through the Web Store. https://bit.ly/3OVPmHv
Barbara Peters, owner of The Poisoned Pen, recently welcomed Goldman for a virtual event.
Here's the description of his latest book, Carolina Moonset.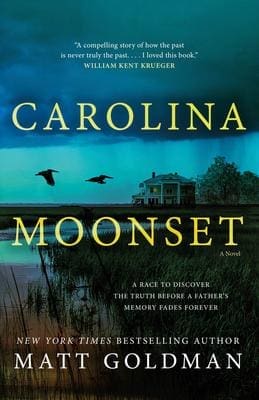 Both suspenseful and deeply moving, Carolina Moonset is an engrossing novel about family, memories both golden and terrible, and secrets too dangerous to stay hidden forever, from New York Times bestselling and Emmy Award-winning author, Matt Goldman.
Joey Green has returned to Beaufort, South Carolina, with its palmettos and shrimp boats, to look after his ailing father, who is succumbing to dementia, while his overstressed mother takes a break. Marshall Green's short-term memory has all but evaporated, but, as if in compensation, his oldest memories are more vivid than ever. His mind keeps slipping backwards in time, retreating into long-ago yesterdays of growing up in Beaufort as a boy.
At first this seems like a blessing of sorts, with the past providing a refuge from a shrinking future, but Joey grows increasingly anxious as his father's hallucinatory arguments with figures from his youth begin to hint at deadly secrets, scandals, and suspicions long buried and forgotten. Resurfacing from decades past are mysteries that still have the power to shatter lives—and change everything Joey thought he knew.
Especially when a new murder brings the police to his door…
---
Matt Goldman is a playwright and Emmy Award-winning television writer for Seinfeld, Ellen, and other shows. He brings his signature storytelling abilities and light touch to his Nils Shapiro series, which begins with Gone to Dust. He lives in Minnesota with his wife, two dogs, two cats, and whichever children happen to be around.
---
Enjoy the conversation as Matt Goldman talks about his standalone, Carolina Moonset.