Patrick Millikin from The Poisoned Pen recently welcomed Isabella Maldonado for a live event at the bookstore. The Falcon is the third book featuring FBI Agent Nina Guerrera. Millikin says he has to be careful to not give away spoilers with this book. So, you might want to pick up a signed copy through the Web Store. https://bit.ly/3ORZgtC
Here's the description of The Falcon.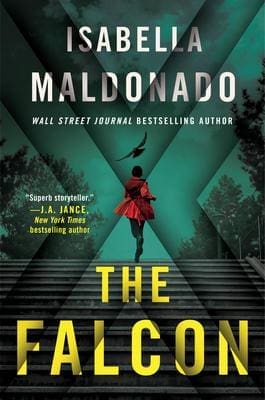 A Wall Street Journal bestselling series.
A serial killer wants to play. FBI Agent Nina Guerrera has no time for games.
Six female undergrads at an elite university vanish. The media descends. The families demand action. And as Special Agent Nina Guerrera follows clue by chilling clue, she realizes she's tracking the most cunning predator of her career.
The case takes a turn for the worse, and the bizarre, when several victims are found perfectly preserved. No signs of violence, no hint of how they died. Just more evidence that the killer is cruel, calculating, and a master of mind control.
With her mission compromised, Nina must face her greatest failure—and greatest fear—to stop a deadly hunter before he claims another prize.
---
Isabella Maldonado is the award-winning and Wall Street Journal bestselling author of the Detective Cruz series and of The Cipher and A Different Dawn in the Nina Guerrera series. Before turning to crime writing, she wore a gun and badge in real life. A graduate of the FBI National Academy in Quantico and the first Latina to attain the rank of captain in her police department, she retired as the Commander of Special Investigations and Forensics. During more than two decades on the force, she served as a hostage negotiator, department spokesperson, and district station commander. She uses her extensive law enforcement background to bring a realistic edge to her writing. Maldonado lives in the Phoenix area with her family. For more information, visit www.isabellamaldonado.com.
---
Maldonado introduces her book, and Nina Guerrera's FBI team.