John Charles from The Poisoned Pen recently welcomed cozy mystery authors Krista Davis and Daryl Wood Gerber. Davis' latest book is The Diva Says Cheesecake. Gerber's new book is A Hint of Mischief. Both books are available in the Web Store. https://store.poisonedpen.com/
Here's Krista Davis' The Diva Says Cheesecake.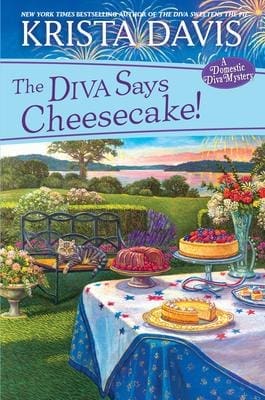 "Reminiscent of Joanne Fluke's Hannah Swensen cozies, which also include baking and a group of close friends working together to solve crimes." "" Booklist
A delightful new story from a New York Times bestselling author perfect for fans of Joanne Fluke's Hannah Swensen Mystery series! In this page-turning new book, entertaining guru Sophie Winston is faced with a midsummer nightmare when a celebration in Old Town Alexandria, Virginia, is the appetizer for murder…

Old Town's midsummer festivities are getting a tasty addition this year. To coincide with a public performance of Shakespeare's "A Midsummer Night's Dream," Bobbie Sue Bodoin, the Queen of Cheesecake, has hired Sophie to organize a dinner with a dessert buffet on the waterfront. Bobbie Sue's homegrown company is thriving, and since her baking dish overfloweth, she wants to reward her employees.

Bobbie Sue has only one menu demand: no cheesecake! But her specialty isn't the only thing missing from the evening—Tate, Bobbie Sue's husband, is too, much to her annoyance. Next morning, however, Tate's dead body is discovered. Bobbie Sue insists she didn't kick her spouse to the curb, and begs for Sophie's help finding the real killer. Digging in, Sophie discovers an assortment of Old Town locals who all had reason to want a piece of Tate. Can she gather together the crumbs the killer left behind in time to prevent a second helping of murder?

Includes delectable recipes and fabulous DIY decorating tips!
---
Krista Davis is the New York Times bestselling and four-time Agatha Award-nominated author of the Domestic Diva Mysteries, the Pen & Ink Mysteries, and the Paws & Claws Mysteries. She lives in the Blue Ridge Mountains of Virginia with two cats and a brood of dogs. Her friends and family complain about being guinea pigs for her recipes, but she notices they keep coming back for more. Please visit her at KristaDavis.com.
---
Here's the description of Daryl Wood Gerber's A Hint of Mischief.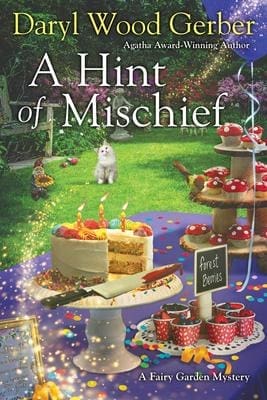 From Agatha Award-winning author Daryl Wood Gerber, the third in an enchantingly whimsical series featuring Courtney Kelly, the owner of a fairy-gardening and tea shop in Carmel, California. It's a special place brimming with good vibes and the kind of magical assistance its proprietor will need to prepare for an old sorority sister's birthday bash awhile solving a puzzling murder!
Courtney has thrown a few fairy garden parties—for kids. But if a local socialite is willing to dip into her trust fund for an old sorority sister's fortieth birthday bash, Courtney will be there with bells on. To make the job even more appealing, a famous actress, Farrah Lawson, is flying in for the occasion, and there's nothing like a celebrity cameo to raise a business's profile.

Now Courtney has less than two weeks to paint a mural, hang up tinkling windchimes, plan party games, and conjure up all the details. While she works her magic, the hostess and her girlfriends head off for an indulgent spa day—which leads to a fateful facial for Farrah, followed by her mysterious death. Could the kindhearted eyebrow waxer who Farrah berated in public really be the killer, as the police suspect? Courtney thinks otherwise, and with the help of her imaginative sleuth fairy, sets out to dig up the truth behind this puzzling murder .
---
Daryl Wood Gerber is the Agatha Award-winning, nationally bestselling author of the Fairy Garden Mysteries, the French Bistro  Mysteries, and the Cookbook Nook Mysteries, as well as the Cheese Shop Mysteries written under the name Avery Aames. She  also writes standalone suspense novels and the Aspen Adams Novels of Suspense. Prior to her career as a novelist, she was an  actress with roles in television shows including "Murder, She Wrote," and she wrote for the popular TV sitcom "Out of this  World." Originally from the Bay Area, she now lives in Southern California where she likes to cook, garden and spend time with  her frisky Goldendoodle named Sparky. Visit her online at DarylWoodGerber.com.
---
If you're a cozy mystery reader, you'll enjoy the interviews. John Charles asks both writers to talk about their backgrounds, writing, and their latest books.