John Charles from The Poisoned Pen recently hosted Claudia Gray for a virtual author event. Gray is the author of The Murder of Mr. Wickham. You can order copies of the book through the Web Store. https://bit.ly/3MXD93W
Here's the description of The Murder of Mr. Wickham.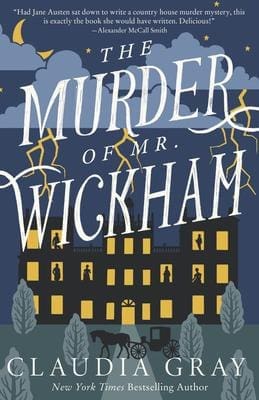 A summer house party turns into a thrilling whodunit when Jane Austen's Mr. Wickham—one of literature's most notorious villains—meets a sudden and suspicious end in this brilliantly imagined mystery featuring Austen's leading literary characters.
The happily married Mr. Knightley and Emma are throwing a party at their country estate, bringing together distant relatives and new acquaintances—characters beloved by Jane Austen fans. Definitely not invited is Mr. Wickham, whose latest financial scheme has netted him an even broader array of enemies. As tempers flare and secrets are revealed, it's clear that everyone would be happier if Mr. Wickham got his comeuppance. Yet they're all shocked when Wickham turns up murdered—except, of course, for the killer hidden in their midst.
Nearly everyone at the house party is a suspect, so it falls to the party's two youngest guests to solve the mystery: Juliet Tilney, the smart and resourceful daughter of Catherine and Henry, eager for adventure beyond Northanger Abbey; and Jonathan Darcy, the Darcys' eldest son, whose adherence to propriety makes his father seem almost relaxed. In this tantalizing fusion of Austen and Christie, from New York Times bestselling author Claudia Gray, the unlikely pair must put aside their own poor first impressions and uncover the guilty party—before an innocent person is sentenced to hang. 
---
CLAUDIA GRAY is the pseudonym of Amy Vincent. She is the writer of multiple young adult novels, including the Evernight series, the Firebird trilogy, and the Constellation trilogy. In addition, she's written several Star Wars novels, such as Lost Stars and Bloodline. She makes her home in New Orleans with her husband Paul and assorted small dogs. 
---
Here's the virtual event with the discussion of fan fiction and Gray's writing.