John Charles from The Poisoned Pen recently hosted historical mystery authors Anna Lee Huber and A.M. Stuart for a virtual event. Anna Lee Huber's tenth Lady Darby mystery is A Perilous Perspective. Evil in Emerald is the third Harriet Gordon mystery by A.M. Stuart. You can order copies of both books through the Web Store. https://store.poisonedpen.com/
Check out the summary of A Perilous Perspective.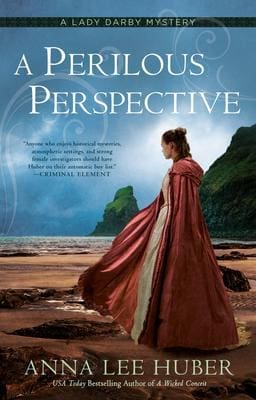 An all-new historical mystery in this USA Today bestselling series featuring beloved inquiry agents Lady Kiera Darby and her dashing husband, Sebastian Gage.
Argyll, Scotland. July 1832. After a trying few months in Edinburgh, Kiera and her husband and investigative partner, Sebastian Gage, are eager to escape to the Highlands with their three-month-old child. Kiera is overjoyed for her cousin Rye and her detractor-turned-friend Charlotte who are being wed in a private ceremony at the estate of Rye's great-uncle, the Marquess of Barbreck, in what seems to be the perfect wedding party.

But when Kiera is invited to peruse Barbreck's extensive art collection, she is disturbed to discover that one of his most priceless paintings seems to be a forgery. The marquess's furious reaction when she dares to mention it leaves her shaken and the entire house shocked. For it turns out that this is not the first time the word forgery has been uttered in connection with the Barbreck household.

Matters turn more ominous when a maid from a neighboring estate is found murdered  where the forged painting hangs. Is her death connected to the forgeries, perhaps a grisly warning of what awaits those who dare to probe deeper? With unknown entities aligned against them, Kiera and Gage are forced to confront the fact that they may have underestimated their opponent. For they are swiftly made to realize that Charlotte's and Rye's future happiness is not the only issue at stake, and this stealthy game of cat and mouse could prove to have deadly consequences.
---
Anna Lee Huber is the Daphne Award""winning author of the national bestselling Lady Darby Mysteries and the Verity Kent Mysteries. She is a summa cum laude graduate of Lipscomb University in Nashville, Tennessee, where she majored in music and minored in psychology. She currently resides with her family and is hard at work on her next novel.
---
Here's the description of Stuart's Evil in Emerald.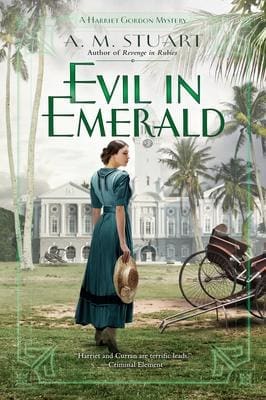 Craving a change of pace, Harriet Gordon, joins a local musical theatre production but when a fellow cast member is brutally killed, Harriet and Inspector Curran must turn the spotlight on murder in this all-new mystery from the author of Revenge in Rubies.

Between working at her brother's school and typing up Inspector Robert Curran's police reports, Harriet Gordon has little time for personal pursuits and she has been enjoying the rehearsals for her role in the Singapore Amateur Dramatic and Musical Society's latest production "" Pirates of Penzance. But Harriet quickly discovers tensions run deep within the theatre company and when the leading man is found murdered, suspicions abound, exposing scandalous behavior as well as some insidious crimes.
Inspector Curran once again turns to Harriet for help with this difficult case, but his own life begins to unravel as a mysterious man turns up on his doorstep claiming to know more about Curran's painful past than he himself does. And after the one person he has always counted on delivers him some devastating news, the line between his personal and professional life begins to blur. Now, more than ever, Curran needs Harriet's steadfast assistance, and when another cast member meets a violent end, Curran and Harriet will have to close in on a killer determined to make this case their final curtain call.
---
Australian author, A.M Stuart, creator of the popular Harriet Gordon Mystery series, lives in Melbourne, Australia but over her life she has travelled extensively and lived in Africa and Singapore, experiences which she brings to her writing. Before becoming a full-time writer, she worked as a lawyer across a variety of disciplines including the military and emergency services.
As well as the Harriet Gordon series, she is also multi published in historical romance and short stories with settings in England and Australia and spanning different periods of history.
---
Enjoy the conversation.