Patrick Millikin from The Poisoned Pen recently hosted authors Don Bentley and Chris Hauty at the bookstore. Don Bentley's Hostile Intent is his third Matt Drake novel. Storm Rising is Chris Hauty's third Hayley Chill thriller. There are signed copies of both books available through the Web Store. https://store.poisonedpen.com/
Here's the summary of Hostile Intent.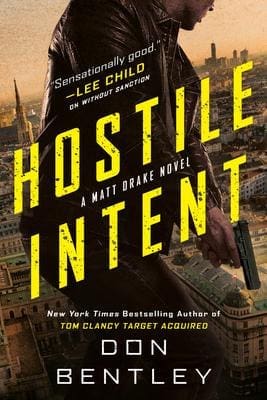 In the espionage community, Vienna is known as the City of Spies, and Matt Drake is about to learn why in the latest electrifying thriller from the New York Times bestselling author of Tom Clancy Target Acquired and The Outside Man.
When a mysterious walk-in to the US embassy in Vienna claims to have critical information about a Russian intelligence operation, he raises eyebrows. But when he asks for Matt Drake by name and calls himself the Irishman, he gets the DIA's premier case officer on a one-way flight.
Matt arrives to find Austria's charming capital lousy with intelligence officers, all swirling around Nolan Burke—a onetime member of the real IRA. But before Matt can debrief Nolan, the Irishman is kidnapped by a Russian direct action team. Now, Matt must find a way to repay the debt of honor he owes Nolan while stopping World War III in the process.
---
Don Bentley is the New York Times bestselling author of Tom Clancy Target Acquired and the Matt Drake series (Without Sanction & The Outside Man). Don is a former FBI Special Agent, SWAT Team member, and Army Apache helicopter pilot. Learn more at www.donbentleybooks.com
---
Here's the description of Storm Rising.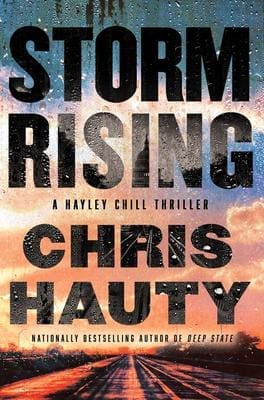 Nationally bestselling author Chris Hauty leads fans into the depths of a dangerous white supremacy conspiracy that threatens to tear the country apart in his propulsive new thriller.
Former White House intern turned intelligence operative Hayley Chill is filling her time by training as an MMA fighter. When she's convinced to pursue the truth about her father's mysterious fate, she stumbles upon a ciphered document under the floorboards of her father's house.
With permission from her handler to probe deeper, she is led into a terrifying subculture of white supremacy within the United States military. As her investigation intensifies, she uncovers an expansive conspiracy to bring about the secession of several states from the country. It's up to Hayley to stop a second Civil War before it starts, while also confronting the ultimate truth about her own father's role in this harrowing chapter of American history.
---
Chris Hauty is a screenwriter who has worked at all the major movie studios, in nearly every genre of film. He currently lives in Venice, California. Deep State, his debut novel, was an instant national bestseller in the USA. His second novel, Savage Road, published in 2021 and his third, Storm Rising, will publish in 2022. All of the Hayley Chill thrillers can be read as part of the series or as standalones. 
---
Enjoy the conversation, including the background on both books.