Dana Stabenow is the perfect host for Marc Cameron. As a fellow Alaska resident, she understands the Alaska connection in Cameron's latest book, Cold Snap. Signed copies of Cold Snap, the fourth Arliss Cutter novel, are available through the Web Store. https://bit.ly/3NdQDJh
Here's the summary of Cold Snap.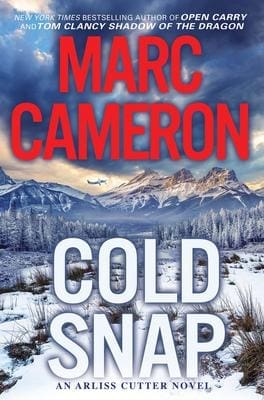 "Cameron's books are riveting page-turners." —Mark Greaney, #1 New York Times bestselling author

The bestselling author of the latest Tom Clancy, Jack Ryan novels delivers an adrenaline-filled new thriller featuring Deputy US Marshal Arliss Cutter! Stranded with three violent prisoners in the deadly Alaskan wilderness, Cutter will become the hunter and the hunted…
After an early spring thaw on the Alaskan coast, Anchorage police discover a gruesome new piece of evidence in their search for a serial killer: a dismembered human foot.

In Kincaid Park, a man is arrested for attacking a female jogger. Investigators believe they have finally have their suspect. But one deputy is sure they have the wrong man.

In the remote northern town of Deadhorse, Alaska, Supervisory Deputy US Marshal Arliss Cutter escorts four very dangerous handcuffed prisoners onto a small bush plane en route to Fairbanks. Cutter's expecting a routine mission and a nonstop flight—or so he thinks. When the plane goes down in the wilderness, all hell breaks loose. The prisoners murder the pilot and a guard and torch the plane. But their nightmare's just beginning. Back in Anchorage, deputy Lola Teariki has traced the dismembered foot to a missing girl—and the serial psychopath who slaughtered her.

It's one of the prisoners on Cutter's flight…

Now it's a deadly game of survival. With no means of communication, few supplies, and ravenous grizzly bears and wolves lurking in the shadows, Cutter has to battle the unforgiving elements while the killer wants his head on a stick. Here in Alaska, nature can be cruel—but this time, human nature is crueler…

"Well-developed characters complement the nonstop action. Cameron viscerally conveys Alaska's austere beauty as well as its unexpected dangers." "" Publishers Weekly
---
New York Times and USA Today bestselling author Marc Cameron, a native of Texas and now a resident of Alaska, has spent over three decades in law enforcement. He is the award-winning author of the Arliss Cutter and the Jericho Quinn series, as well as the Tom Clancy Jack Ryan Sr. books, starting with Power and Empire in 2017. Early in his career, he served as a uniformed police officer, mounted (horse patrol) officer, and detective before accepting a position with the United States Marshals Service and serving as a Deputy, Fugitive Task Force Commander, Supervisory Deputy, Senior Inspector, and Chief. His assignments have taken him from rural Alaska to Manhattan, from Canada to Mexico and points in between. A second-degree black belt in jujitsu, he often teaches defensive tactics to other law enforcement agencies and civilian groups. Cameron presently lives in Alaska with his wife and his BMW motorcycle. Visit him online at MarcCameronBooks.com.
---
Enjoy the conversation between Marc Cameron and Dana Stabenow.