The Grayson Sherbrooke Otherworldly Adventures, Books 1-5, is Catherine Coulter's latest collection of novellas. Coulter discusses her numerous books with Barbara Peters, owner of The Poisoned Pen. You can order a signed copy through the Web Store. https://bit.ly/3Jk5Oyq
Here's the description of The Grayson Sherbrooke Otherworldly Adventures, Books 1-5. The book has a perfect cover for Valentine's Day, doesn't it?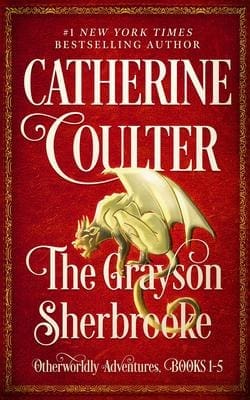 Much like the hero of his frightening gothic adventure stories, well-known English author Grayson Sherbrooke has his own share of run-ins with peculiar supernatural beings, both good and evil. From his home on the northern coast of England, Sherbrooke leaps into these otherworldly mysteries to find the truth with the help of his son, Pip; his beautiful neighbor, Miranda, and her daughter, P. C.; and an orphan named Barnaby.
Set in the mid-nineteenth century and featuring a delightfully quirky cast of characters, The Grayson Sherbrooke Novella Collection will keep you entertained for hours as you join Sherbrooke and his rag-tag team of investigators to solve bizarre, out-of-this-world cases.
This collection includes five books in Coulter's supernatural series: The Strange Visitation at Wolffe Hall, The Resident Evil at Blackthorn Manor, The Ancient Spirits of Sedgwick House, The Virgin Bride of Northcliffe Hall, and The Red Witch of Ravenstone Folly.
---
Catherine Coulter is a #1 New York Times bestselling author. She has written more than eighty novels, including the popular FBI Thriller series. She earned an MA degree in European history at Boston College and is a former Wall Street speechwriter.
---
Enjoy Coulter's discussion of her background and books.