Let's talk vodka, and the kick-off to Gregg Hurwitz' latest Orphan X novel, Dark Horse. There are signed copies of Dark Horse, the seventh one in the series, through the Web Store. https://bit.ly/35XBfjC
Here's the summary of Dark Horse.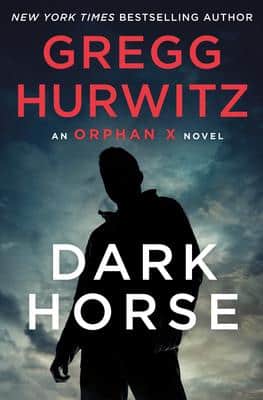 "Awesome and propulsive." —New York Times

Gregg Hurwitz's New York Times bestselling series returns when Orphan X faces his most challenging mission ever in Dark Horse.
Evan Smoak is a man with many identities and a challenging past. As Orphan X, he was a government assassin for the off-the-books Orphan Program. After he broke with the Program, he adopted a new name and a new mission–The Nowhere Man, helping the most desperate in their times of trouble. Having just survived an attack on his life and the complete devastation of his base of operations, as well as his complicated (and deepening) relationship with his neighbor Mia Hall, Evan isn't interested in taking on a new mission. But one finds him anyway.
Aragon Urrea is a kingpin of a major drug-dealing operation in South Texas. He's also the patron of the local area–supplying employment in legitimate operations, providing help to the helpless, rough justice to the downtrodden, and a future to a people normally with little hope. He's complicated–a not completely good man, who does bad things for often good reasons. However, for all his money and power, he is helpless when one of the most vicious cartels kidnaps his innocent eighteen year old daughter, spiriting her away into the armored complex that is their headquarters in Mexico. With no other way to rescue his daughter, he turns to The Nowhere Man.
Now not only must Evan figure out how to get into the impregnable fortress of a heavily armed, deeply paranoid cartel leader, but he must decide if he should help a very bad man–no matter how just the cause.
---
GREGG HURWITZ is the New York Times bestselling author of more than a dozen novels, including the #1 international bestseller Orphan X, the first in a series of thrillers featuring Evan Smoak. He has also written young adult novels: The Rains and its sequel, The Last Chance. Hurwitz's books have been shortlisted for numerous literary awards, graced top ten lists, and have been translated into twenty-eight languages.
Hurwitz is also a New York Times bestselling comic book writer, having penned stories for Marvel (Wolverine, The Punisher) and DC (Batman). Additionally, he has written screenplays for many major studios and written, developed, and produced television for various networks.
Hurwitz resides in Los Angeles with two Rhodesian ridgebacks.
---
Here's the conversation (and a toast) with Gregg Hurwitz.