Mark Greaney's latest Gray Man thriller, Sierra Six, has been the Hot Book of the Week at The Poisoned Pen. The eleventh book in the series is a prequel that provides the history of Court Gentry, the Gray Man. But, the story also tells a current story. Greaney talks about it with the video. And, of course, you can order a copy through the Web Store. https://bit.ly/34Xpbyd
Here's the description of Sierra Six.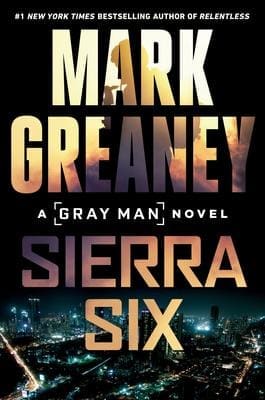 It's been years since the Gray Man's first mission, but the trouble's just getting started in the latest entry in the #1 New York Times bestselling series.
Before he was the Gray Man, Court Gentry was Sierra Six, the junior member of a CIA action team.

In their first mission they took out a terrorist leader, at a terrible price. Years have passed. The Gray Man is on a simple mission when he sees a ghost: the long-dead terrorist, but he's remarkably energetic for a dead man. 

A decade of time hasn't changed the Gray Man. He isn't one to leave a job unfinished or a blood debt unpaid.
---
Mark Greaney's research for the Gray Man novels, including Relentless, One Minute Out, Mission Critical, Agent in Place, Gunmetal Gray, Back Blast, Dead Eye, Ballistic, On Target, and The Gray Man, has taken him to more than twenty countries and trained alongside military and law enforcement in the use of firearms, battlefield medicine, and close-range combative tactics. With Marine LtCol Rip Rawlings, he wrote the New York Times bestseller Red Metal. He is also the author of the New York Times bestsellers Tom Clancy Support and Defend, Tom Clancy Full Force and Effect, Tom Clancy Commander in Chief, and Tom Clancy True Faith and Allegiance. With Tom Clancy, he coauthored Locked On, Threat Vector, and Command Authority.
---
Enjoy Mark Greaney's conversation with Barbara Peters, owner of The Poisoned Pen, and with an actual in-person audience.