T. Jefferson Parker's upcoming virtual event for The Poisoned Pen is scheduled for Monday, Jan. 10 at 7 PM MST (9 PM EST). He'll be talking about 1968, and his latest book, A Thousand Steps. You can still order a signed copy of the book through the Web Store. https://bit.ly/3sXQWRp
Before you check out the summary of the book, Parker did an interview for CriminalElement in November in which he talked about "The Books Behind A Thousand Steps". You might be interested in checking out the titles he said inspired his novel. https://www.criminalelement.com/the-books-behind-a-thousand-steps/
Here's the description of A Thousand Steps.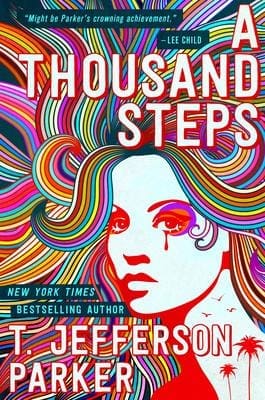 A Thousand Steps is a beguiling thriller, an incisive coming-of-age story, and a vivid portrait of a turbulent time and place by three-time Edgar Award winner and New York Times bestselling author T. Jefferson Parker.
Laguna Beach, California, 1968. The Age of Aquarius is in full swing. Timothy Leary is a rock star. LSD is God. Folks from all over are flocking to Laguna, seeking peace, love, and enlightenment.
Matt Anthony is just trying get by.
Matt is sixteen, broke, and never sure where his next meal is coming from. Mom's a stoner, his deadbeat dad is a no-show, his brother's fighting in Nam . . . and his big sister Jazz has just gone missing. The cops figure she's just another runaway hippie chick, enjoying a summer of love, but Matt doesn't believe it. Not after another missing girl turns up dead on the beach.
All Matt really wants to do is get his driver's license and ask out the girl he's been crushing on since fourth grade, yet it's up to him to find his sister. But in a town where the cops don't trust the hippies and the hippies don't trust the cops, uncovering what's really happened to Jazz is going to force him to grow up fast.
If it's not already too late.
---
T. Jefferson Parker is the author of numerous novels and short stories, the winner of three Edgar Awards (for Silent Joe, California Girl, and the short story "Skinhead Central"), and the recipient of a Los Angeles Times Book Prize for best mystery (Silent Joe). Before becoming a full-time novelist, he was an award-winning reporter. He lives in Fallbrook, California.