Emily Levesque, author of The Last Stargazers, will appear virtually on Facebook and YouTube for The Poisoned Pen on Wednesday, Jan. 5 at 5 PM (7 PM EST), hosted by author Dana Stabenow. Levesque is an award-winning astrophysicist whose book is available through the Web Store. https://bit.ly/3pOb7z8
Before you watch the event, you might want to check out Levesque's TED Talk, "A Stellar History of Modern Astronomy.
Here's the description of The Last Stargazers.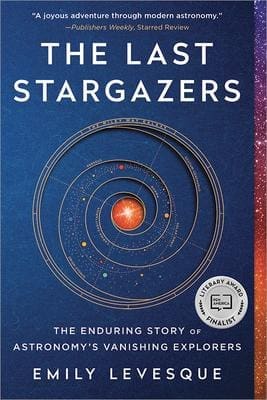 The story of the people who see beyond the stars—an astronomy book for adults still spellbound by the night sky.
Humans from the earliest civilizations through today have craned their necks each night, using the stars to orient themselves in the large, strange world around them. Stargazing is a pursuit that continues to fascinate us: from Copernicus to Carl Sagan, astronomers throughout history have spent their lives trying to answer the biggest questions in the universe. Now, award-winning astronomer Emily Levesque shares the stories of modern-day stargazers in this new nonfiction release, the people willing to adventure across high mountaintops and to some of the most remote corners of the planet, all in the name of science.
From the lonely quiet of midnight stargazing to tall tales of wild bears loose in the observatory, The Last Stargazers is a love letter to astronomy and an affirmation of the crucial role that humans can and must play in the future of scientific discovery.
In this sweeping work of narrative science, Levesque shows how astronomers in this scrappy and evolving field are going beyond the machines to infuse creativity and passion into the stars and space and inspires us all to peer skyward in pursuit of the universe's secrets.
---
EMILY LEVESQUE is a professor at the University of Washington and lives in Seattle. She received her SB in physics from MIT and a PhD from the University of Hawaii. She has won the American Astronomical Society's Annie Jump Cannon Award and Newton Lacy Pierce Prize, among other awards.