You might have missed Laura Bradford's chat with The Poisoned Pen's John Charles because of the holidays. Bradford's latest book, the first in a new series, is A Plus One for Murder. It's available through the Web Store. https://tinyurl.com/bdf7y9b4
Here's the summary of A Plus One for Murder.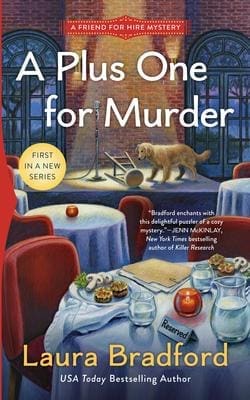 Entrepreneur Emma Westlake is reinventing herself as a hired friend when murder gets in the way in this exciting new mystery series from USA Today bestselling author Laura Bradford.
Emma Westlake has always wanted to be in business for herself. As a kid, she had her own successful lemonade stand and dog-walking business. And when she entered adulthood, Emma sunk all her cash into her dream job of travel planning. But as her customers became more and more internet savvy, the need for her services declined. At a loss for what to do next, she turns to an elderly friend who suggests she try to get paid for doing something she's really good at–being a paid companion. Emma thinks it's a crazy idea until requests start pouring in. Big Max from down the block wants her to act as his wingman at the local senior center's upcoming dance, nurse practitioner Stephanie needs a workout partner, and writer Brian Hill asks Emma to be his cheering section at an open mic night.
Brian will be reading from his latest work and wants to know someone will clap for him when he's done. When Emma balks at the notion that people wouldn't, he tells her the room will be filled with people he's invited–most of whom will likely want him dead by the time he's done reading. Assuming he's joking, she laughs. But when Brian steps up to the mic and clears his throat to speak, he promptly drops dead. Emma is one of the last people to see him alive, and so she becomes an immediate suspect. Now she'll have to cozy up to a killer to save her skin and her new business.
---
While spending a rainy afternoon at a friend's house as a child, Laura Bradford fell in love with writing over a stack of blank paper, a box of crayons, and a freshly sharpened number-two pencil. From that moment forward, she never wanted to do or be anything else. Today, Laura is the USA Today bestselling author of the Amish Mysteries, including Just Plain Murder and A Churn for the Worse. She is also the author of the Emergency Dessert Squad Mysteries, and, as Elizabeth Lynn Casey, she wrote the Southern Sewing Circle Mysteries.
---
Enjoy the conversation with Laura Bradford and John Charles.