When Barbara Peters, owner of The Poisoned Pen, asked the staff to write about their favorite books of 2021, I know we were all a little hesitant. So as not to offend anyone, John Charles and I went in different directions. He picked his favorite debuts of 2021. I'm a librarian and the blogger for The Pen. I chose to write about books in one of my favorite areas. I love novels about bookshops. I'm going to tell you about five books of 2021, provide a quick peek at a mystery coming out in January, and remind you of a classic.
Christmas by the Book is one of those charming seasonal stories about a miracle. Anne Marie Ryan introduces readers to a small English bookshop, a struggling one with a leaky roof and dwindling customers, although the local community loves the store. When Nora and Simon Walden, the owners, sell the book that has been in the store for years, they celebrate by running a contest on their website. "Do you know anyone in Stowford who could use a random act of kindness? We are giving away six books to anyone who needs a bit of hope this festive season." There's talk of books, and, of course, a bit of magic involving a community and a bookshop.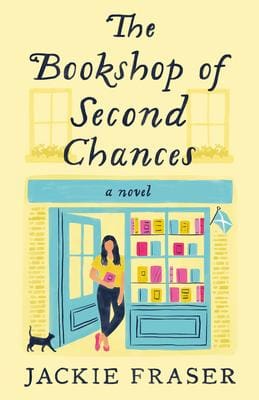 John Charles already told you about Jackie Fraser's The Bookshop of Second Chances when he wrote about his favorite debuts, so I really only need to quote him. "After her personal and professional lives implode, Thea Mottram packs up her bags and leaves Chicago for Baldochrie, Scotland, where she has just inherited a small estate and collection of books from her late great uncle Andrew. Once there, Thea quickly finds she is warmly welcomed by everyone in the small town, except cranky bookseller Edward Maltravers. Who wouldn't want to escape life's stresses and strains (even if only for a few hours) by running away to a charming town in Scotland?" I will add I found this book worth reading just for the sassy, strong Thea.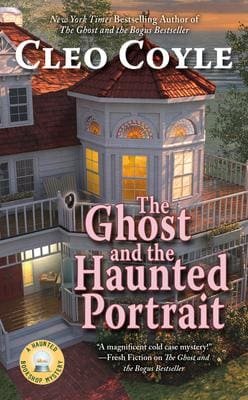 If you love the paranormal in your cozy mysteries, you might want to check out the latest Haunted Bookshop mystery by Cleo Coyle, The Ghost and the Haunted Portrait. Jack Shepard is back! Let's face it. While the blurb says "Bookshop owner Penelope Thornton-McClure and her gumshoe ghost team up", many of us who read the Haunted Bookshop mysteries love Jack, the ghost of a private investigator killed in 1949 on the site of the bookshop in Quindicott, Rhode Island. Penelope and her aunt host a launch party and art exhibit at Buy the Book, their bookstore. When two deaths occur, related to a painting that is supposed to be "cursed", Jack takes Penny back to 1947 to witness a case similar to the current troubles. I like Jack and the bookshop in this cozy series.
The Last Bookshop in London is Madeline Martin's novel of World War II, an homage to books and reading and the power of books. I'll admit I sobbed over this one. The job at Primrose Hill Books is the only job Grace Bennett can find in London just before the war begins, but she's not a reader, and is ill-equipped to help people in the shabby little bookstore. The book starts out on a lighthearted note, but quickly becomes serious as the characters have to cope with the bombings in London, and loss of beloved friends. As I said, though, it's a tribute to the power of books. When asked what he likes best about reading, one character replies, "It's going somewhere without ever taking a train or ship, an unveiling of new, incredible worlds. It's living a life you weren't born into and a chance to see something colored by someone else's perspective. It's learning without having to face consequences of failures, and how best to succeed….I think within all of us, there is a void, a gap waiting to be filled by something. For me, that something is books, and all their proffered experiences."
A Curious Incident, the sixth book in Vicki Delany's Sherlock Holmes Bookshop mystery series, was my favorite. Gemma Doyle, owner of the bookstore, can be very much like Holmes, although she doesn't realize it. She's quick to analyze details, and can be cold at times. Gemma's still quirky, but she shows a surprising side in this one as she assists an eleven-year-old. When eleven-year-old Lauren shows up at Sherlock Holmes Bookshop and Emporium, asking for help in finding her lost cat, Snowball, Gemma insists she's not a consulting detective. Then, Lauren shows up again, and offers Gemma ten dollars to prove Lauren's mother isn't a killer. There's humor, and, of course, a connection to a Sherlock Holmes case in this enjoyable mystery.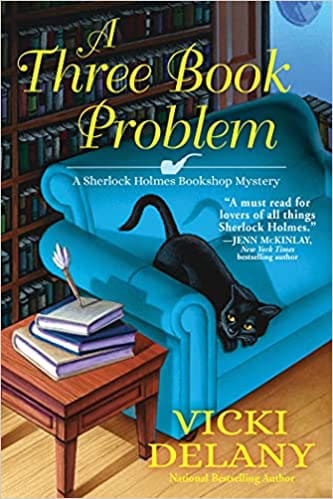 I promised a preview of another bookstore-related novel. Vicki Delany's A Three Book Problem will be released January 11, and you can pre-order it now. A prominent Sherlockian hires Gemma Doyle and Jayne Wilson to cater a traditional English country house weekend. Gemma realizes the guests seem unusual for a Holmes-related weekend, but a poisoned dart soon leads to a murder investigation.
You can look for all of these bookshop-related novels in the Web Store. https://store.poisonedpen.com/ Don't forget one of my favorite ones, though, a classic. Christopher Morley's The Haunted Bookshop was published in 1919. Here's the summary from the Web Store.
"The Haunted Bookshop is a fast-paced thriller that deserves a modern audience. From unassuming beginnings as a tale about a lovelorn advertising salesman who visits a charming bookstore, The Haunted Bookshop quickly morphs into a story of paranoia, stalking, and kidnapping. "If you are ever in Brooklyn, that borough of superb sunsets and magnificent vistas of husband-propelled baby-carriages, it is to be hoped you may chance upon a quiet by-street where there is a very remarkable bookshop." In need of a new client, Aubrey Gilbert steps into a bookstore on a quiet Brooklyn street. There, he meets Roger Mifflin, the store's owner, who inundates the adman with information on the value of books. Although he fails to get Mifflin's business, Gilbert is drawn to Titania Chapman, the man's beautiful young assistant who just so happens to be the daughter of Gilbert's most important client. As mysterious occurrences begin to pile up—a valuable book is stolen, Gilbert is assaulted, and a strange man is found lurking in the alleyway behind the store—it becomes clear that Titania is in grave danger."