S.J. Rozan was one of the recent authors for a virtual appearance at The Poisoned Pen. Family Business is her latest Lydia Chin and Bill Smith novel. There are signed copies available through the Web Store. https://bit.ly/3rRnj3H
Here's the summary of Family Business.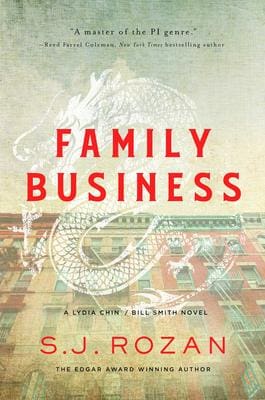 The death of a powerful Chinatown crime boss thrusts private eye Lydia Chin and her partner Bill Smith into a world of double-dealing, subterfuge, murder, and—because this is New York City—real estate in this new mystery by Edgar Award-winning novelist S. J. Rozan.
Choi has left the Tong headquarters building to his niece, who hires Lydia and her partner, Bill Smith, to accompany her to inspect it. The building is at the center of a tug-of-war between Chinatown preservation interests—including Lydia's brother Tim—and a real estate developer who's desperate to get his hands on it.
When Lydia, Bill, and Choi's niece go to the building, they discover the Tong members are equally divided on the question of whether the niece should hold onto the building or sell it—and make them rich. Entering Choi's private living quarters, they find the murdered body of Choi's chief lieutenant.
The battle for the building has begun. Can Lydia and Bill escape being caught in the crossfire?
---
S. J. Rozan is the author of Paper Son and many other crime novels. She has won multiple awards for her fiction, including the Edgar, Shamus, Anthony, Nero, and Macavity, the Japanese Maltese Falcon, and the Private Eye Writers of America Lifetime Achievement Award. S. J. was born and raised in the Bronx and now lives in lower Manhattan.
---
Rozan discussed the Chinese history she wrote about in Paper Son, as well as other topics for the recent event.