If you missed the recent virtual event at The Poisoned Pen, you can still catch Robert J. Lloyd talking about his debut, The Bloodless Boy. Lee Child was guest host for the discussion of the historical mystery. You can order copies of this well-reviewed book through the Web Store. https://bit.ly/3oark12
Here's the summary of The Bloodless Boy.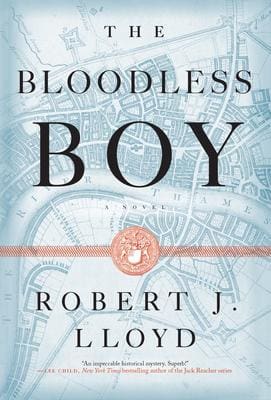 A New York Times Best New Historical Novel of 2021

"Potent… fast-paced…" – The New York Times Book Review

"Wonderfully imagined and wonderfully written . . . Superb!" — Lee Child
Part Wolf Hall, part The Name of the Rose, a riveting new literary thriller set in Restoration London, with a cast of real historic figures, set against the actual historic events and intrigues of the returned king and his court …
The City of London, 1678. New Year's Day. Twelve years have passed since the Great Fire ripped through the City. Eighteen since the fall of Oliver Cromwell and the restoration of a King. London is gripped by hysteria, and rumors of Catholic plots and sinister foreign assassins abound.

When the body of a young boy drained of his blood is discovered on the snowy bank of the Fleet River, Robert Hooke, the Curator of Experiments at the just-formed Royal Society for Improving Natural Knowledge, and his assistant Harry Hunt, are called in to explain such a ghastly finding—and whether it's part of a plot against the king. They soon learn it is not the first bloodless boy to have been discovered.

Meanwhile, that same morning Henry Oldenburg, the Secretary of the Royal Society, blows his brains out, and a disgraced Earl is released from the Tower of London, bent on revenge against the King, Charles II.

Wary of the political hornet's nest they are walking into "" and using scientific evidence rather than paranoia in their pursuit of truth "" Hooke and Hunt must discover why the boy was murdered, and why his blood was taken.
The Bloodless Boy is an absorbing literary thriller that introduces two new indelible heroes to historical crime fiction. It is also a powerfully atmospheric recreation of the darkest corners of Restoration London, where the Court and the underworld seem to merge, even as the light of scientific inquiry is starting to emerge …
---
Robert Lloyd, the son of parents who worked in the British Foreign Office, grew up in South London, Innsbruck, and Kinshasa.  He studied for a Fine Art degree, starting as a landscape painter, but it was while studying for his MA degree in The History of Ideas that he first read Robert Hooke's diary, detailing the life and experiments of this extraordinary man. After a 20-year career as a secondary school teacher, he has now returned to painting and writing. The Bloodless Boy is his debut novel. He is at work on a sequel.
---
Enjoy the discussion with Robert Lloyd, Lee Child, and Barbara Peters, owner of The Poisoned Pen.