Better Off Dead is the twenty-sixth Jack Reacher novel. Brothers Lee and Andrew Child co-wrote Better Off Dead, and they appeared for a virtual event at The Poisoned Pen to talk about their writing careers, books, and the latest in the series. You can order a signed copy of Better Off Dead through the Web Store. https://bit.ly/2z4duCD
Here's the summary of the new Jack Reacher book.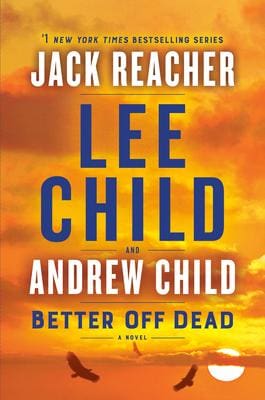 Jack Reacher is back in a brand-new page-turning thriller from acclaimed #1 bestselling authors Lee Child and Andrew Child.

Digging graves had not been part of my plans when I woke up that morning.

Reacher goes where he wants, when he wants. That morning he was heading west, walking under the merciless desert sun—until he comes upon a curious scene. A Jeep has crashed into the only tree for miles around. A woman is slumped over the wheel.

Dead? No, nothing is what it seems.
The woman is Michaela Fenton, an army veteran turned FBI agent trying to find her twin brother, who might be mixed up with some dangerous people. Most of them would rather die than betray their terrifying leader, who has burrowed his influence deep into the nearby border town, a backwater that has seen better days. The mysterious Dendoncker rules from the shadows, out of sight and under the radar, keeping his dealings in the dark.

He would know the fate of Fenton's brother.
Reacher is good at finding people who don't want to be found, so he offers to help, despite feeling that Fenton is keeping secrets of her own. But a life hangs in the balance. Maybe more than one. But to bring Dendoncker down will be the riskiest job of Reacher's life. Failure is not an option, because in this kind of game, the loser is always better off dead.
---
Lee Child is the author of twenty-five New York Times bestselling Jack Reacher thrillers, with sixteen having reached the #1 position, and the #1 bestselling complete Jack Reacher story collection, No Middle Name. Foreign rights in the Reacher series have sold in one hundred territories. A native of England and a former television director, Lee Child lives in New York City and Wyoming.
Andrew Child, who also writes as Andrew Grant, is the author of RUN, False Positive, False Friend, False Witness, Invisible, and Too Close to Home. Child and his wife, the novelist Tasha Alexander, live on a wildlife preserve in Wyoming. He is the co-author of the #1 bestselling Jack Reacher novel The Sentinel.
---
If you're a fan of either author or Jack Reacher, you'll want to watch the recent virtual event.