Clea Simon's latest suspense novel, Hold Me Down, is much darker than her cozy mysteries. It involves PTSD, rape, abuse, and the music business. You can order a copy through the Web Store. https://bit.ly/2WEzn72
Here's the description of Hold Me Down.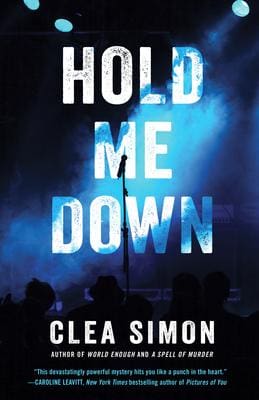 A riveting work of dark suspense from acclaimed author Clea Simon Gal, a middle-aged musician, is back in Boston to play a memorial for her late drummer/best friend, when she finds herself freezing on stage at the sight of a face in the crowd. The next day, she learns that the man she saw has been killed "" beaten to death behind the venue "" and her friend's widower is being charged in connection with his death. When the friend refuses to defend himself, Gal wonders why and, as the memories of begin to flood back, she starts her own informal investigation. As she does so, she must reexamine her own wild life, her perception of the past, and an industry that monetizes dysfunction in a dark tale of love, music, and murder.
---
Before turning to a life of crime (fiction), Clea Simon was a journalist. Starting as a rock critic, she ended up writing about books and other arts. A native of New York, she came to Massachusetts to attend Harvard University, from which she graduated with high honors, and never left. The author of three nonfiction books and seven mysteries, she lives with her husband, the writer Jon S. Garelick, and their cat, Musetta. She is the author of the Witch Cats of Cambridge mysteries from Polis Books: A Spell of Murder, An Incantation of Cats, and A Cat on the Case. You can find her online at @Clea_Simon.
---
While anyone will appreciate this virtual event, if you're interested in the music industry you'll really want to listen to this conversation with Clea Simon.