John Connolly recently appeared for The Poisoned Pen to discuss his new Charlie Parker novel, The Nameless Ones. If you order it through the Web Store, there's some swag that comes with it, a signed oversize playing card, and a custom book tote. Here's the link to order The Nameless Ones. https://bit.ly/2MdULvW
Here's the description of The Nameless Ones.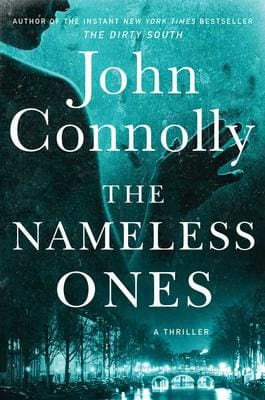 "One of the best thriller writers we have." —Harlan Coben, #1 New York Times bestselling author
From the international and instant New York Times bestselling author of The Dirty South, the white-knuckled Charlie Parker series returns with this heart-pounding race to hunt down the deadliest of war criminals.
In Amsterdam, four bodies, violently butchered, are discovered in a canal house, the remains of friends and confidantes of the assassin known only as Louis.
The men responsible for the murders are Serbian war criminals. They believe they can escape retribution by retreating to their homeland.
They are wrong.
For Louis has come to Europe to hunt them down: five killers to be found and punished before they can vanish into thin air.
There is just one problem.
The sixth.
With John Connolly's trademark "dark, haunting, and beautifully told" (Booklist) prose and breathless twists and turns, The Nameless Ones is an unputdownable thriller that will keep you on the edge of your seat.
---
John Connolly is the author of the Charlie Parker series of thrillers, the supernatural collection Nocturnes, the Samuel Johnson Trilogy for younger readers, and (with Jennifer Ridyard) the Chronicles of the Invaders series. He lives in Dublin, Ireland. For more information, see his website at JohnConnollyBooks.com, or follow him on Twitter @JConnollyBooks.
---
John Connolly is a true Irish storyteller. You'll want to watch the virtual event.