As Barbara Peters, owner of The Poisoned Pen says, true crime is not new. Catherine Prendergast covers true historical crime with her new book. Her first book of narrative nonfiction for the general reader is The Gilded Edge: The Audacious Women and the Cyanide Love Triangle That Shook America. There are copies available in the Web Store, and they come with signed bookplates. https://bit.ly/3b2IYML
Here is the description of The Gilded Edge.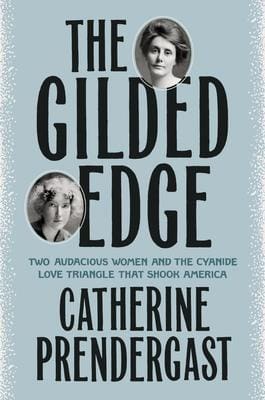 One of Book Riot's Anticipated 2021 Nonfiction Books
"The Gilded Edgeis a compelling read from start to finish. Gripping, suspenseful, cinematic. This is narrative nonfiction at its best."""Lindsey Fitzharris, Bestselling Author ofThe Butchering Art
Astonishingly well written, painstakingly researched, and set in the evocative locations of earthquake-ravaged San Francisco and the Monterey Peninsula, the true story of two women—a wife and a poet—who learn the high price of sexual and artistic freedom in a vivid depiction of the debauchery of the late Gilded Age
Nora May French and Carrie Sterling arrive at Carmel-by-the-Sea at the turn of the twentieth century with dramatically different ambitions. Nora, a stunning, brilliant, impulsive writer in her early twenties, seeks artistic recognition and bohemian refuge among the most celebrated counterculturalists of the era. Carrie, long-suffering wife of real estate developer George Sterling, wants the opposite: a semblance of the stability she thought her advantageous marriage would offer, now that her philandering husband has taken to writing poetry.
After her second abortion, Nora finds herself in a desperate situation but is rescued by an invitation to stay with the Sterlings. To Carrie's dismay, George and the arrestingly beautiful poetess fall instantly into an affair. The ensuing love triangle, which ultimately ends with the deaths of all three, is more than just a wild love story and a fascinating forgotten chapter. It questions why Nora May—in her day a revered poet whose nationally reported suicide gruesomely inspired youths across the country to take their own lives, with her verses in their pockets no less—has been rendered obscure by literary history. It depicts America at a turning point, as the Gilded Age groans in its death throes and young people, particularly young women, look toward a bright, progressive, more egalitarian future.
In an unfortunately familiar development, this vision proves a mirage. But women's rage at the scam redefines American progressivism forever.
For readers of Nathalia Holt, Denise Kiernan, and Sonia Purnell, this shocking history with a feminist bite is not to be missed.
---
Catherine Prendergast is a Professor of English at the University of Illinois at Urbana-Champaign, a Guggenheim Fellow, and a Fulbright Scholar. Interviewed by NPR and New York Magazine, she has written on battles over school desegregation, anxieties over the global spread of English, and recognition of disability rights. Dr. Prendergast's previous (scholarly) books include Buying Into English (University of Pittsburgh Press, 2008) and Literary and Racial Justice (Southern Illinois University Press, 2003). The Gilded Edge is her first work of narrative nonfiction.

Originally from New Jersey, she now lives in central Illinois with her husband and son.
---
Enjoy the discussion of history of California and The Gilded Edge.