William Kent Krueger's new book, Lightning Strike, is the current Hot Book of the Week at The Poisoned Pen. And, Krueger himself is hot right now. He was the recent subject of a "By the Book" interview in The New York Times. There are signed copies of Lightning Strike available through the Web Store. https://bit.ly/2ksjS2X
Here's the summary of Lightning Strike, a prequel to the Cork O'Connor series.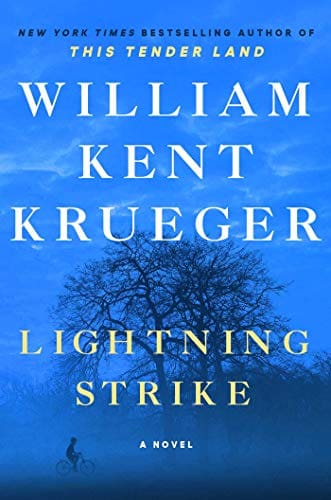 The author of the instant New York Times bestseller This Tender Land returns with a powerful prequel to his acclaimed Cork O'Connor series—a book about fathers and sons, long-simmering conflicts in a small Minnesota town, and the events that echo through youth and shape our lives forever.
Aurora is a small town nestled in the ancient forest alongside the shores of Minnesota's Iron Lake. In the summer of 1963, it is the whole world to twelve-year-old Cork O'Connor, its rhythms as familiar as his own heartbeat. But when Cork stumbles upon the body of a man he revered hanging from a tree in an abandoned logging camp, it is the first in a series of events that will cause him to question everything he took for granted about his hometown, his family, and himself.
Cork's father, Liam O'Connor, is Aurora's sheriff and it is his job to confirm that the man's death was the result of suicide, as all the evidence suggests. In the shadow of his father's official investigation, Cork begins to look for answers on his own. Together, father and son face the ultimate test of choosing between what their heads tell them is true and what their hearts know is right.
In this masterful story of a young man and a town on the cusp of change, beloved novelist William Kent Krueger shows that some mysteries can be solved even as others surpass our understanding.
---
William Kent Krueger is the New York Times bestselling author of This Tender Land, Ordinary Grace (winner of the Edgar Award for best novel), as well as eighteen acclaimed books in the Cork O'Connor mystery series, including Desolation Mountain and Sulfur Springs. He lives in the Twin Cities with his family. Learn more at WilliamKentKrueger.com.
---
There was no live audience, but Barbara Peters, owner of The Poisoned Pen, was able to talk with William Kent Krueger in person. This event feels so much different than the virtual events since the two were together. Enjoy!