You may have read rave reviews of Ash Davidson's debut novel, Damnation Spring. Davidson is an Arizona author, so she appeared in person to film the recent virtual event, hosted by Barbara Peters, owner of The Poisoned Pen. And, for those of you who were frustrated by the virtual event with T.J. Newman, debut author of Falling, Newman appears for a short time as well. You can find signed copies of Damnation Spring in the Web Store. https://bit.ly/2UPcYqO
Here's the description of Damnation Spring.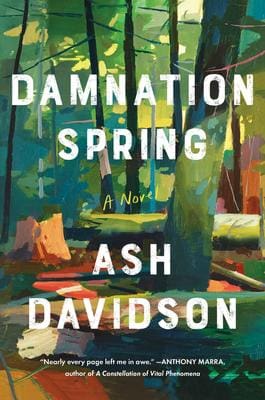 An epic, immersive debut, Damnation Spring is the deeply human story of a Pacific Northwest logging town wrenched in two by a mystery that threatens to derail its way of life.
For generations, Rich Gundersen's family has chopped a livelihood out of the redwood forest along California's rugged coast. Now Rich and his wife, Colleen, are raising their own young son near Damnation Grove, a swath of ancient redwoods on which Rich's employer, Sanderson Timber Co., plans to make a killing. In 1977, with most of the forest cleared or protected, a grove like Damnation—and beyond it 24-7 Ridge—is a logger's dream.
It's dangerous work. Rich has already lived decades longer than his father, killed on the job. Rich wants better for his son, Chub, so when the opportunity arises to buy 24-7 Ridge—costing them all the savings they've squirreled away for their growing family—he grabs it, unbeknownst to Colleen. Because the reality is their family isn't growing; Colleen has lost several pregnancies. And she isn't alone. As a midwife, Colleen has seen it with her own eyes.
For decades, the herbicides the logging company uses were considered harmless. But Colleen is no longer so sure. What if these miscarriages aren't isolated strokes of bad luck? As mudslides take out clear-cut hillsides and salmon vanish from creeks, her search for answers threatens to unravel not just Rich's plans for the 24-7, but their marriage too, dividing a town that lives and dies on timber along the way.
Told from the perspectives of Rich, Colleen, and Chub, in prose as clear as a spring-fed creek, this intimate, compassionate portrait of a community clinging to a vanishing way of life amid the perils of environmental degradation makes Damnation Spring an essential novel for our time.
---
Ash Davidson was born in Arcata, California, and attended the Iowa Writers' Workshop. Her work has been supported by the Arizona Commission on the Arts and MacDowell. She lives in Flagstaff, Arizona.
---
Enjoy the virtual event with Ash Davidson, and later T.J. Newman, two debut authors from Arizona.