While Patrick Millikin from The Poisoned Pen had some questions for James Lee Burke, Dennis Lehane was the host for the recent event celebrating Burke's new Holland family novel, Another Kind of Eden. You can still snatch up a signed copy of Another Kind of Eden. https://bit.ly/2SJ8gVl
Here's the summary of Another Kind of Eden.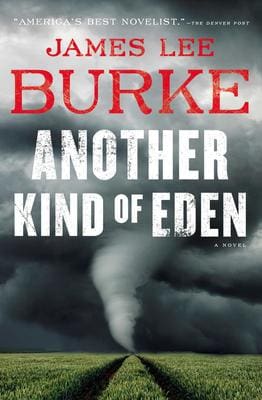 New York Times bestselling author James Lee Burke brings readers a captivating tale of justice, love, brutality, and mysticism set in the turbulent 1960s.
The American West in the early 1960s appears to be a pastoral paradise: golden wheat fields, mist-filled canyons, frolicking animals. Aspiring novelist Aaron Holland Broussard has observed it from the open door of a boxcar, riding the rails for both inspiration and odd jobs.
Jumping off in Denver, he finds work on a farm and meets Joanne McDuffy, an articulate and fierce college student and gifted painter. Their soul connection is immediate, but their romance is complicated by Joanne's involvement with a shady professor who is mixed up with a drug-addled cult. When a sinister businessman and his son who wield their influence through vicious cruelty set their sights on Aaron, drawing him into an investigation of grotesque murders, it is clear that this idyllic landscape harbors tremendous power—and evil. Followed by a mysterious shrouded figure who might not be human, Aaron will have to face down all these foes to save the life of the woman he loves and his own.
The latest installment in James Lee Burke's masterful Holland family saga, Another Kind of Eden is both riveting and one of Burke's most ambitious works to date. It dismantles the myths of both the twentieth-century American West and the peace-and-love decade, excavating the beauty and idealism of the era to show the menace and chaos that lay simmering just beneath the surface.
---
James Lee Burke is a New York Times bestselling author, two-time winner of the Edgar Award, and the recipient of the Guggenheim Fellowship for Creative Arts in Fiction. He's authored thirty-nine novels and two short story collections. He lives in Missoula, Montana.
---
It's not often that there are two legends in the same virtual event. Enjoy the video featuring James Lee Burke and Dennis Lehane.