Paper & Blood is the second book in Kevin Hearne's Ink & Sigil series. The Poisoned Pen was once his local bookstore. The store still hosts him for virtual events. You can find copies of Paper & Blood in the Web Store. They come with signed book plates. https://bit.ly/2Glm6Lt
Here's the summary of Paper & Blood.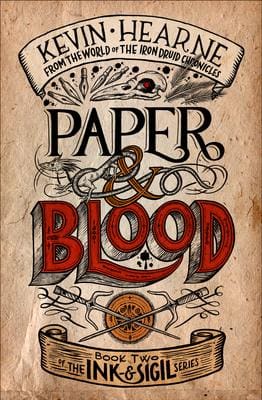 From the New York Times bestselling author of The Iron Druid Chronicles comes book two of an "action-packed, enchantingly fun" (Booklist) spin-off series, as an eccentric master of rare magic solves a supernatural mystery Down Under!
There's only one Al MacBharrais: Though other Scotsmen may have dramatic mustaches and a taste for fancy cocktails, Al also has a unique talent. He's a master of ink and sigil magic. In his gifted hands, paper and pen can work wondrous spells.
But Al isn't quite alone: He is part of a global network of sigil agents who use their powers to protect the world from mischievous gods and strange monsters. So when a fellow agent disappears under sinister circumstances in Australia, Al leaves behind the cozy pubs and cafes of Glasgow and travels to the Dandenong Ranges in Victoria to solve the mystery.
The trail to his colleague begins to pile up with bodies at alarming speed, so Al is grateful his friends have come to help—especially Nadia, his accountant who moonlights as a pit fighter. Together with a whisky-loving hobgoblin known as Buck Foi and the ancient Druid Atticus O'Sullivan, along with his dogs, Oberon and Starbuck, Al and Nadia will face down the wildest wonders Australia—and the supernatural world—can throw at them, and confront a legendary monster not seen in centuries.
---
Kevin Hearne hugs trees, pets doggies, and rocks out to heavy metal. He also thinks tacos are a pretty nifty idea. He is the author of The Seven Kennings series and the New York Times bestselling series The Iron Druid Chronicles, and co-author of The Tales of Pell with Delilah S. Dawson.
---
Enjoy the virtual event with Kevin Hearne, hosted by Patrick King from The Poisoned Pen.