At the time of the virtual event celebrating Naomi Hirahara's Clark and Division, The Poisoned Pen's August Historical Crime book of the Month, Barbara Peters, owner of the bookstore, said they only had two signed copies left. They're probably all sold out by now, but you can check the Web Store. https://bit.ly/3svq7C0
There were so many positive reviews of this book. Here's the summary of Clark and Division.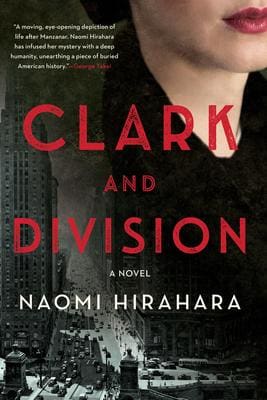 Set in 1944 Chicago, Edgar Award-winner Naomi Hirahara's eye-opening and poignant new mystery, the story of a young woman searching for the truth about her revered older sister's death, brings to focus the struggles of one Japanese American family released from mass incarceration at Manzanar during World War II.
Chicago, 1944: Twenty-year-old Aki Ito and her parents have just been released from Manzanar, where they have been detained by the US government since the aftermath of Pearl Harbor, together with thousands of other Japanese Americans. The life in California the Itos were forced to leave behind is gone; instead, they are being resettled two thousand miles away in Chicago, where Aki's older sister, Rose, was sent months earlier and moved to the new Japanese American neighborhood near Clark and Division streets. But on the eve of the Ito family's reunion, Rose is killed by a subway train.
Aki, who worshipped her sister, is stunned. Officials are ruling Rose's death a suicide. Aki cannot believe her perfect, polished, and optimistic sister would end her life. Her instinct tells her there is much more to the story, and she knows she is the only person who could ever learn the truth.
Inspired by historical events, Clark and Division infuses an atmospheric and heartbreakingly real crime fiction plot with rich period details and delicately wrought personal stories Naomi Hirahara has gleaned from thirty years of research and archival work in Japanese American history.
---
Naomi Hirahara is the Edgar Award""winning author of the Mas Arai mystery series, including Summer of the Big Bachi, which was a Publishers Weekly Best Book of the Year and one of Chicago Tribune'sTen Best Mysteries and Thrillers; Gasa Gasa Girl; Snakeskin Shamisen; and Hiroshima Boy. She is also the author of the LA-based Ellie Rush mysteries. A former editor of The Rafu Shimpo newspaper, she has co-written non-fiction books like Life after Manzanar and the award-winning Terminal Island: Lost Communities of Los Angeles Harbor. The Stanford University alumna was born and raised in Altadena, CA; she now resides in the adjacent town of Pasadena, CA.
---
Enjoy the discussion of this fascinating historical mystery.