First, before I share Thomas Kies' recent blog post, let me introduce the virtual event for Thursday, August 19. Warren Easley, author of No Witness, and Thomas Kies, author of Shadow Hill, will be appearing at 1:30 PM PDT. You can "attend" the event at The Poisoned Pen's Facebook page. Books by both Sourcebooks/Poisoned Pen Press authors are available through the Web Store. https://store.poisonedpen.com/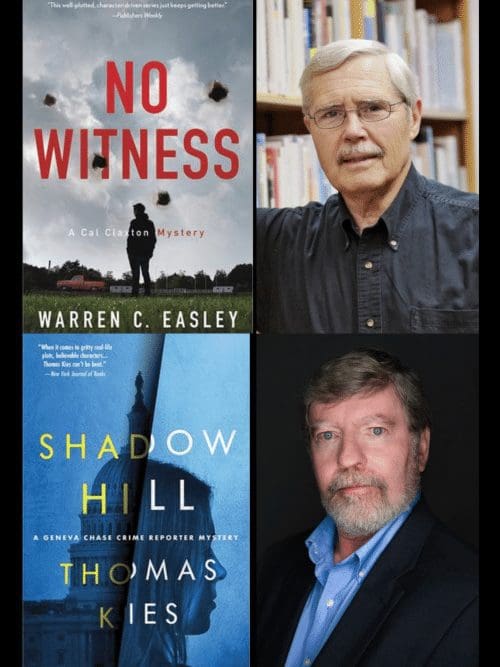 Kies' fourth Geneva Chase Crime Reporter novel, Shadow Hill, has just been released. Because Kies' Geneva Chase has just switched careers, from crime reporter to private investigator, I asked Tom to talk about that. Why did Geneva change careers? What does it have to do with the state of newspapers today? 
---
In my newest mystery, SHADOW HILL, my protagonist, Geneva Chase, has left a fulltime job at her hometown newspaper to work for a company that uses journalists and ex-cops to collect intelligence for well paying clients. She's gone from being a crime reporter to being a PI.
The main reason she left journalism is her newspaper, the Sheffield Post, is on the brink of being purchased by a major media conglomerate.
Geneva is based on several women I've worked with over the years when I too worked in the newspaper and publishing business.
It's a business that I loved.  I did everything, including working as a pressman on a Goss web press in Detroit, becoming a staff writer, eventually becoming an editor, then moving into advertising management, and ultimately becoming the publisher and general manager of a magazine publishing house here on the coast of North Carolina. 
I even delivered newspapers during a blizzard in one of the company's ancient, rear-wheel drive vans. Yikes. Sliding sideways down a hill in a blinding snowstorm is a real adrenaline rush.
Every single day, the business was exciting, interesting, and fun, but filled with the pressures of working on a deadline.
Unfortunately, the business has changed. The combination of the Great Recession, the effects of the Internet, and Covid-19 has been disastrous for newspapers. Their main source of revenue is advertising and all three of the factors I presented have shrunk that revenue stream.
Before the Great Recession, the housing market was booming. Real estate companies were spending a fortune in the classified section of newspapers, along with car dealerships, and companies looking to hire employees.
Starting in 2007-2008, the housing bubble burst followed by cascading disasters in employment and consumer confidence. Companies who always knew about the Internet, suddenly found it very attractive. It was cheap and easy to use. The lucrative classified pages in newspapers diminished to a disastrous level. The advertising in the main pages of the paper also either got smaller or went away altogether.
According to a New York Times article in December of 2019, over the past 15 years, more than one in five papers in the United States has shuttered, and the number of journalists working for newspapers has been cut in half, according to research by the University of North Carolina's School of Media and Journalism. That has led to the rise of hollowed-out "ghost papers" and communities across the country without any local paper. "Ghost papers" are publications what have severely cut the staff in their newsrooms making any kind of investigative reporting non-existent.
Covid-19 has delivered even more pain to newspapers.  When the world shut down in March of 2020, stores, shops, bars, and restaurants all closed their doors for months. Advertising became even scarcer.  Even with the world starting to open back up, the number of pages in your local newspaper has become less and less.  
An unexpected circumstance from the experience of working from home, more newspaper companies are closing their newsrooms, having offsite printing companies produce their publications, and selling their buildings and other physical assets.
A huge part of the joy of working for a newspaper was being with the people you worked with. Yes, the pressure of daily deadlines could lead to fraying nerves and in-office tension. But at the end of the day, these people were your "newspaper family". Even though I've been out of the business for more than ten years, I still stay in close touch with a lot of them even if it's through social media on the Internet.
Speaking of the Internet, the way people get their news has changed dramatically.
The transition of news from print, television and radio to digital spaces has caused huge disruptions in the traditional news industry, especially the print news industry. It's also reflected in the ways individual Americans say they are getting their news. A large majority of Americans get news at least sometimes from digital devices, according to a Pew Research Center survey conducted Aug. 31-Sept. 7, 2020.
More than eight-in-ten U.S. adults (86%) say they get news from a smartphone, computer or tablet "often" or "sometimes," including 60% who say they do so often. This is higher than the portion who get news from television, though 68% get news from TV at least sometimes and 40% do so often. Americans turn to radio and print publications for news far less frequently, with half saying they turn to radio at least sometimes (16% do so often) and about a third (32%) saying the same of print (10% get news from print publications often).
So, I'm transitioning Geneva Chase, crime reporter, into going freelance, working gigs for her newspaper on occasion, and working for a company called Lodestar Analytics that does open-source research as well as instigating deep dive investigations.
Personally, I still like newspapers.  I get the paper out of Raleigh every day (even they've stopped printing on Saturdays, however) and my local newspaper (which has cut back from three days a week to two), as well as the Sunday New York Times (which seems to be flourishing).
I also subscribe to a digital Washington Post feed and routinely scan other websites (all free) for news from around the globe. I'm a news junkie and the Internet feeds my addiction. 
Still, I'm happiest when I'm writing scenes where Geneva Chase is working in the newsroom. She's got ink in her veins. I'd like to think that I do too.
---
For those looking to start with the first in the series, Random Road introduces Geneva Chase. If you'd like to catch up with her latest case, here's the summary of Shadow Hill.
How far would someone go to protect corporate profits?
Just days before Morris Cutter, a retired powerful oil executive, is scheduled to give a pseudo-scientific report to Congress that will delay crucial action on climate change for decades, he and his wife are found shot to death in their Greenwich, Connecticut, home. The police call it murder-suicide. The couple's son refuses to accept the official conclusion and hires Geneva Chase, crime reporter turned private detective, to prove otherwise.
Genie soon learns that there are suspects everywhere, including within the deceased's immediate family. Morris Cutter's own daughter hadn't spoken with him in years, and his nephew is a climate activist with a radical organization. But Cutter's former company has a vested interest in keeping a low profile until it is able to present its mock-science on Capitol Hill. Genie is bribed, then threatened, to wrap up her investigation before the scheduled hearing date—and to concur with the police findings.
When the lead scientist of the study goes missing, followed by Cutter's daughter, Genie begins to piece together what actually may have happened to Morris and Julia Cutter, putting herself in harm's way as she races to find the truth.
---
Thomas Kies' website is https://thomaskiesauthor.com/
Shadow Hill by Thomas Kies. Sourcebooks/Poisoned Pen Press, 2021. ISBN 9781464214400 (paperback), 320p.