I know how much Barbara Peters, owner of The Poisoned Pen, likes to introduce a debut author. Ashley Winstead's debut novel is In My Dreams I Hold a Knife. Multi-award winning author and journalist Hank Phillippi Ryan hosted the recent virtual event on behalf of the bookstore. You can order signed copies of the debut through the Web Store. https://bit.ly/3D6Z6t9
Here's the summary of In My Dreams I Hold a Knife.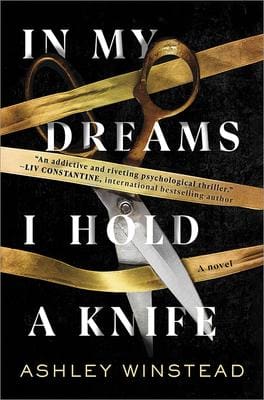 "[A] mordant debut novel….examines what it means to covet the lives of others, no matter the cost."—The New York Times
"Tense, twisty, and packed with shocks."—Riley Sager, New York Times bestselling author of Survive The Night
Six friends.
One college reunion.
One unsolved murder.
Ten years after graduation, Jessica Miller has planned her triumphant return to her southern, elite Duquette University, down to the envious whispers that are sure to follow in her wake. Everyone is going to see the girl she wants them to see—confident, beautiful, indifferent. Not the girl she was when she left campus, back when Heather Shelby's murder fractured everything, including the tight bond linking the six friends she'd been closest to since freshman year.
But not everyone is ready to move on. Not everyone left Duquette ten years ago, and not everyone can let Heather's murder go unsolved. Someone is determined to trap the real killer, to make the guilty pay. When the six friends are reunited, they will be forced to confront what happened that night—and the years' worth of secrets each of them would do anything to keep hidden.
Told in racing dual timelines, with a dark campus setting and a darker look at friendship, love, obsession, and ambition, In My Dreams I Hold A Knife is an addictive, propulsive read you won't be able to put down.
"Beautiful writing, juicy secrets, complex female characters, and drumbeat suspense—what more could you want from a debut thriller?"—Andrea Bartz, author of Reese's Book Club pick We Were Never Here
---
Ashley Winstead directs communications for a national philanthropy. She holds a Ph.D. in contemporary American literature and a B.A. in English and Art History. She lives in Houston, TX
---
Enjoy this introduction to a debut author and novel.