If you missed the Kensington Historicon, hosted by Barbara Peters, owner of The Poisoned Pen, you can now "meet" the authors and learn about their historical novels through the summaries and the video. Three authors published by Kensington participated. Their mysteries are available through the Web Store. https://store.poisonedpen.com/. A Fiancee's Guide to First Wives and Murder is Dianne Freeman's fourth Countess of Harleigh mysteries. Clara McKenna's third Stella and Lyndy mystery is Murder at Keyhaven Castle. Olive Bright, Pigeoneer is the first in Stephanie Graves' new series.
Here's the summary of A Fiancee's Guide to First Wives and Murder.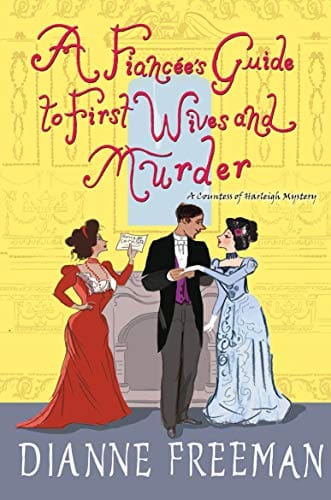 In Dianne Freeman's lighthearted mystery series set in Victorian England, the American-born Countess of Harleigh uncovers more deadly intrigue among the uppercrust…
For Frances Wynn, widow to the late Earl of Harleigh, life has a cosmopolitan flavor of late. No sooner has she sent her mother and daughter off on a shopping trip to Paris than she and her fiancé, George Hazleton, are socializing with visiting members of the Russian royal family. Yet amid this whirlwind, scandal also comes calling when Inspector Delaney turns up outside Frances's house with a young French woman with a shocking claim: she is Mrs. George Hazelton.
As the future Mrs. George Hazelton, Frances assumes the woman is either lying or demented. "Mrs. Hazelton," aka Irena, makes other outrageous statements. Among them, she insists that she is the illegitimate daughter of Russian royalty, that she has been abducted and held for ransom many times, and that someone is sending her threatening letters. When George arrives, he clarifies that he is certainly not married to Irena–though he can confirm her royal parentage. But even as he agrees to investigate whether Irena's life is in danger, her claim proves tragically true. Irena is found strangled in Frances' garden.
To uncover a killer–and clear their own names–Frances and George must determine which of Irena's outlandish stories were based in fact, and who stood to benefit from her death. And as the search reaches a shocking conclusion, they may find that villainy lurks all too close to home…
---
Dianne Freeman is the acclaimed author of the Agatha and Lefty Award-winning Countess of Harleigh Mystery series. A nominee for the prestigious Mary Higgins Clark Award from Mystery Writers of America, she is also a Macavity Award finalist. She spent thirty years working in corporate accounting and finance and now writes full-time. Born and raised in Michigan, she and her husband now split their time between Michigan and Arizona. Visit her at DiFreeman.com.
---
Here's the description of Clara McKenna's Murder at Keyhaven Castle.

With her wedding to Viscount "Lyndy" Lyndhurst just days away, strong-willed American ex-pat Stella Kendrick is the talk of Edwardian society–and the focus of a deadly mystery–in Clara McKenna's third historical mystery set in England's New Forest region at the turn of the 20th century.

Between ornate bridal gown fittings and meetings with Lyndy's distant relatives, Stella finally feels less like an out-of-place American and more like a respected aristocrat. Everything changes as the arrival of an anonymous gift and return of her overbearing father cast a dark shadow over the festivities, conjuring difficult memories and new fears…

Tensions intensify when a daytrip to Southampton ends with a suspicious stranger getting trampled by a horse-drawn cab. Before anyone can explain why the victim possessed a newspaper clipping about the upcoming ceremony at Morrington Hall, tragedy strikes again, this time resulting in a murder that turns Stella's world completely upside down while implicating one of Lyndy's well-regarded family members…

Facing loss, postponed nuptials, and uncertain threats, Stella and Lyndy rush to connect two very different crimes and identify the guilty culprit hiding among elite wedding guests. But as the couple blows the lid off of scandalous secrets, they realize that catching this killer–and living to tell the tale–may prove as impossible as closing the class divide.
Clara McKenna is the author of the acclaimed Stella and Lyndy Mystery Series as well as other historical mysteries written under a different name. She is a member of Historical Novel Society and Sisters in Crime, as well as a founding member of Sleuths in Time, a cooperative group of historical mystery writers who encourage and promote each other's work. McKenna has spent most of her working life in academia and is an avid traveler, a vintage teacup collector, a poet, and a self-professed anglophile. She lives with her family in a Victorian farmhouse near Ames, Iowa, and can be found online at ClaraMckenna.com.
---
Olive Bright, Pigeoneer is Stephanie Graves' first in the Olive Bright series.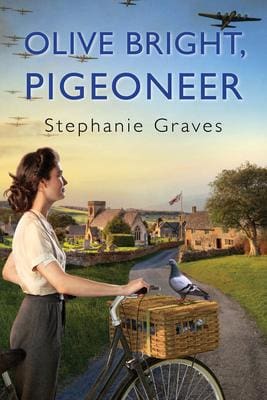 "Delightful."—Kirkus Reviews
"Charming and exciting…the perfect cozy mystery, with a brilliant heroine you're sure to adore."—Apple Books,Best of the Month Selection
Set in a charming British village during World War II, Stephanie Graves' debut mystery introduces Olive Bright, a spirited young pigeon fancier who finds herself at the heart of a baffling murder. . . .

Though war rages across mainland Europe and London is strafed by German aircraft, the little village of Pipley in Hertfordshire bustles along much as it always has. Adrift since her best friend, George, joined the Royal Air Force, twenty-two-year-old Olive Bright fills her days by helping at her father's veterinary practice and tending to her beloved racing pigeons. Desperate to do her bit, Olive hopes that the National Pigeon Service will enlist Bright Lofts' expertise, and use their highly trained birds to deliver critical, coded messages for His Majesty's Forces.

The strangers who arrive in Pipley are not from the NPS. Instead, Jameson Aldridge and his associate are tied to a covert British intelligence organization known as Baker Street. If Olive wants her pigeons to help the war effort, she must do so in complete secrecy. Tired of living vicariously through the characters of her beloved Agatha Christie novels, Olive readily agrees. But in the midst of her subterfuge, the village of Pipley is dealing with another mystery. Local busybody Miss Husselbee is found dead outside Olive's pigeon loft. Is the murder tied to Olive's new assignment? Or did Miss Husselbee finally succeed in ferreting out a secret shameful enough to kill for? With the gruff, handsome Jameson as an unlikely ally, Olive intends to find out—but homing in on a murderer can be a deadly business . . .
"Utterly charming… A marvelous read." —Tasha Alexander, New York Times bestselling author of In the Shadow of Vesuvius
"Smart, energetic, and witty." —Publishers Weekly
"A fresh, quirky, and charming new heroine." —Susan Elia MacNeal, New York Times bestselling author of the Edgar-nominated Maggie Hope series
"Entertaining." —Criminal Element
---
Stephanie Graves is the author of Olive Bright, Pigeoneer, as well as four novels under the pseudonym Alyssa Goodnight. As a graduate of The University of Texas at Austin, she worked in Austin as a product engineer on automotive application microcontrollers before returning to Houston and becoming the mom of two boys. She is a self-professed connoisseur of British mysteries of all sorts and has done extensive research on the little-known role of pigeons during the war, as well as the Special Operations Executive, particularly their school for sabotage, Station XVII: Brickendonbury Manor. Please visit her online at MsStephGraves.com.
---
The authors talk about their books, women, and history. Enjoy the Kensington Historicon.