Patrick Millikin from The Poisoned Pen shared a couple fantastic photos celebrating Isabella Maldonado's new book, A Different Dawn. You'll want to watch the virtual event to see those pictures. A Different Dawn is the second Nina Guerrera novel. Signed copies are available through the Web Store. Check out Maldonado's other books as well. https://bit.ly/2GSYMWr
Here's the summary of A Different Dawn.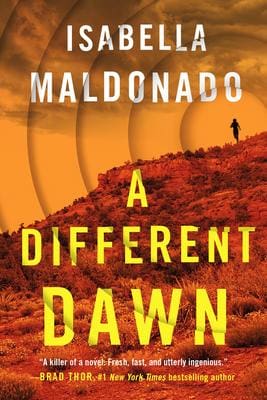 For nearly thirty years a serial killer has been hiding in plain sight. So has the key to an FBI agent's dark past.
A family is murdered as they sleep. FBI Special Agent Nina Guerrera and her new team are tasked with determining whether there is any link between this attack and another triple homicide from four years earlier and more than two thousand miles away. In the process, they'll discover a serial killer so cunning that his grisly trail of death spanning nearly three decades has gone undetected. Each crime scene reminds Nina of the ghostly Latin folktale of La Llorona, which terrified her when she was an abandoned and vulnerable child. Now it's back to haunt her.
Nina has known evil, but these macabre reenactments are as disturbing as they are baffling. Now she must uncover the meaning behind the rituals as the evidence leads her in an unexpected direction—far closer to home than anyone could have imagined. As the team narrows in on a suspect, the present collides with Nina's past in a twist of fate that forces her to make the ultimate sacrifice.
---
Award-winning author Isabella Maldonado wore a gun and badge in real life before turning to crime writing. A graduate of the FBI National Academy in Quantico and the first Latina to attain the rank of captain in her police department, she retired as the Commander of Special Investigations and Forensics.
During Ms. Maldonado's more than two decades on the force, her varied assignments included hostage negotiator, department spokesperson, and district station commander. She uses her extensive law enforcement background to bring a realistic edge to her writing.
Ms. Maldonado is a member of the FBI National Academy Associates; Fairfax County Police Association; International Society of Latino Authors; International Thriller Writers; Mystery Writers of America; and Sisters in Crime, where she served as president of the Phoenix Metro Chapter in 2015 and sat on the board until 2019. The author of the FBI Agent Nina Guerrera series and the Detective Cruz series, she lives in the Phoenix area with her family. For more information, visit www.isabellamaldonado.com.
---
I think the information above is enough to entice you to watch the video.