John Charles from The Poisoned Pen recently hosted the virtual event featuring Karen Rose, author of Say Goodbye. There are still signed copies of her latest thriller through the Web Store. https://bit.ly/2Xk81HD
Here's the summary of Say Goodbye.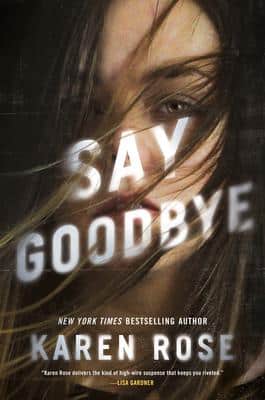 Eden faces a final reckoning when the cult's past victims hunt them down in this explosive, high-stakes thriller in the Sacramento series from New York Times bestselling author Karen Rose.

For decades, Eden has remained hidden in the remote wilds of the Pacific Northwest, "Pastor" keeping his cult's followers in thrall for his personal profit and sexual pleasures. But the Founding Elders are splintering, and Pastor's surrogate son DJ is scheming to make it all his own.
 
When two of Eden's newest members send out a cry for help, it reaches FBI Special Agent Tom Hunter, whose friend and fellow FBI Special Agent Gideon Reynolds and his sister, Mercy, are themselves escapees of the Eden cult, targeted by the Founding Elders who want them silenced forever. The three have vowed to find the cult and bring it down, and now, they finally have a solid lead.
 
Neutralizing Eden's threat will save captive members and ensure Tom's new friends can live without fear. But when his best friend, ex-Army combat medic Liza Barkley, joins the case, it puts her life—and their blossoming love—in danger. With everything they hold dear in the balance, Tom and Liza, together with Gideon and Mercy, must end Eden once and for all.
---
Karen Rose is the award-winning, #1 international bestselling author of some twenty novels, including the bestselling Baltimore and Cincinnati series. She has been translated into twenty-three languages, and her books have placed on the New York Times, the Sunday Times (UK), and Germany's der Spiegel bestseller lists.
---
Enjoy the conversation between Karen Rose and John Charles.