Martin Walker, author of the Bruno Chief of Police novels, recently appeared from France for a virtual event. His latest book, The Coldest Case, is the fourteenth book in the series. Copies of the book are available through the Web Store, along with an insert of the Chateau on one side, and a Bruno recipe from Walker on the other. https://bit.ly/2K7FkC1
Here's the description of The Coldest Case.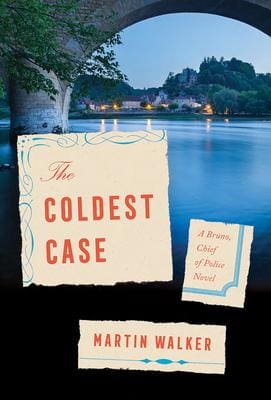 An anonymous skull, an unsolved murder, sinister rumors from the Cold War era of espionage—Bruno's investigation into a long-standing cold case finds him caught between an enigmatic winegrower and a menacing Communist organization from the past.
After attending an exhibit on the facial reconstruction of ancient skulls, Bruno wonders if this technology might provide an invaluable clue to a thirty-year-old cold case. But learning the identity of the murder victim is only the beginning.

The investigation quickly turns thorny and leads Bruno to a reclusive vintner, Henri Bazaine, whose education at a vocational school in a formerly Communist region has raised some eyebrows. An inquiry into the defunct school turns up shadowy reports of possible connections and funding from the Stasi, the repressive police agency of the former East Germany. The scrutiny on Henri intensifies once Bruno discovers that he was declared dead thirty years ago and has been living under an assumed name ever since.

The strange case is further complicated as Parisian bureaucrats get involved, hinting that essential diplomatic relations might be at stake. And to make matters even worse, the Dordogne is suffering from an intense summer drought that is sparking fires across the region. But as always, Bruno will keep a cool head through it all–and, bien sûr, takes time to enjoy a sumptuous Périgordian meal!
---
MARTIN WALKER, after a long career of working in international journalism and for think tanks, now gardens, cooks, explores vineyards, writes, travels, and has never been more busy. He divides his time between Washington, D.C., and the Dordogne.
---
Wine, chateaus, books. Enjoy the conversation with Martin Walker and Barbara Peters, the owner of The Poisoned Pen.