A number of cozy mysteries are centered around holidays. Ellen Byron's Cajun Kiss of Death uses Valentine's Day, although the mystery itself has much more to do with Cajun food and restaurants. Check out the book trailer.
Cajun Kiss of Death will be released on August 10, but you can pre-order it now through the Web Store. https://bit.ly/3iYoN7A
Here's the description of the latest Cajun Country Mystery.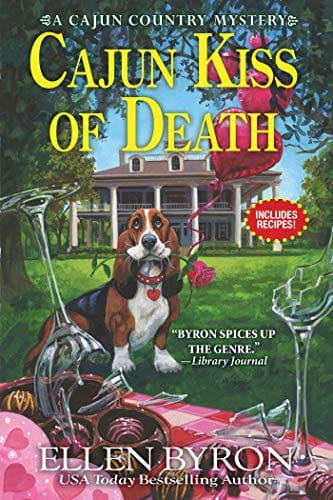 The next shot from Cupid's bow may be fatal in USA Today bestselling, Agatha Award-winning author Ellen Byron's hearty and delightful seventh Cajun Country mystery.
In Pelican, Louisiana, Valentine's Day has a way of warming the heart, despite the February chill. But the air at Crozat Plantation B&B turns decidedly frigid when celebrity chef Phillippe Chanson checks in. And when the arrogant Phillippe–in town to open his newest Cajun-themed restaurant–perishes in a fiery boat crash, Maggie Crozat's dear friend JJ lands in very cold water.
Did JJ, proprietor of Junie's Oyster Bar and Dance Hall, murder Phillippe because he feared the competition? Might Maggie's mother, Ninette, have bumped off the chef for stealing one of her cherished recipes? Or was the culprit a local seafood vendor, miffed because Phillippe was somehow able to sell oysters for a remarkably reasonable price, despite an oyster shortage?
Maggie had planned to devote her February to art lessons in New Orleans, a present from her sweetheart, Bo. But now she has to focus on helping her friend and her mother cross a murder charge off the menu. Meanwhile, Maggie receives a series of anonymous gifts that begin as charming but grow increasingly disturbing. Does Maggie have an admirer–or a stalker? And are these mysterious gifts somehow related to Phillippe's murder?
Blood may be thicker than water, but this case is thicker than gumbo. And solving it will determine whether Maggie gets hearts and roses–or hearse and lilies–this Valentine's Day.
---
Agatha Award winner and USA Today bestselling author Ellen Byron is a television writer, playwright, and freelance journalist. Her TV credits include Wings, Still Standing, and Just Shoot Me, and her written work has appeared in Glamour, Redbook, and Seventeen, among others. She lives in the Los Angeles area with her husband, their daughter, and the family's very spoiled rescue dog. A native New Yorker, Ellen still misses her hometown and still drives like a New York Cabbie.