Glen Erik Hamilton's sixth Van Shaw novel is Island of Thieves. Deborah Crombie joined him for The Poisoned Pen's virtual event, acting as host of the event. You can order signed copies of this book through the Web Store. There are also signed copies available of the previous books, A Dangerous Breed. https://bit.ly/2Tt8Afd
Here's the description of Island of Thieves.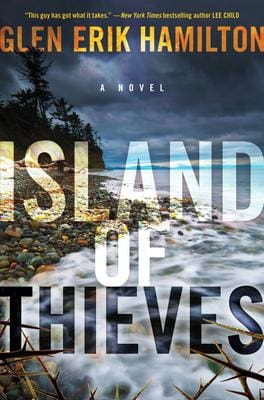 "Hamilton has never been better." —Publishers Weekly (starred review)
When a new security gig turns into a setup, expert thief Van Shaw finds himself the prey in a cross-country pursuit—in this electrifying sixth novel in Glen Erik Hamilton's pulse-pounding and emotionally resonant thriller series.
Van Shaw is hired to evaluate the safeguards for the art collection of eccentric business magnate Sebastien Rohner. Then Rohner reveals to Van the real reason he's been recruited: to prevent another professional burglar from stealing the art. Rohner wants to set a thief to catch a thief.
While questioning the bizarre nature of the job, Van accepts the lucrative offer and arrives at the island estate during an international summit that Rohner is hosting. Shortly after beginning his surveillance of Rohner's highly secure gallery wing, Van stumbles across the murdered body of one of the honored guests along the rocky shore. Wary of Rohner's true intentions, Van knows the homicide detectives on the case—and perhaps Rohner as well—believe he's the prime suspect and will turn his life upside down in their search for proof.
Van begins to hunt for the murderer himself, but scrutiny only digs his hole deeper, as one of Rohner's own executives is also killed and the Seattle police find concrete evidence placing Van at the scene. With no other options, he goes on the run, alone and unaided. He's hunted by the cops, the enraged Rohner, and by a pair of psychopathic hitmen who chase Van from one coast to the next. To clear his name, Van Shaw will have to uncover the hidden motive of corporate espionage at a global level, even with a band of killers on his tail, determined to add Van to their growing list of victims.
---
A native of Seattle, GLEN ERIK HAMILTON was raised aboard a sailboat and grew up around the marinas and commercial docks and islands of the Pacific Northwest. His novels have won the Anthony, Macavity, and Strand Critics awards, and have been nominated for the Edgar, Barry, and Nero awards. After living for many years in Southern California, he and his family have recently returned to the Emerald City and its beautiful overcast skies.
---
Enjoy the conversation with Glen Erik Hamilton and Deborah Crombie.