Dianne Freeman, author of the new book, A Fiancee's Guide to First Wives and Murder, will be one of the authors appearing virtually Saturday, August 7 from 4-5 PM MDT for Kensington Historicon Group Event. She'll be joined by Clara McKenna, author of Murder at Keyhaven Castle, and Stephanie Graves, author of Olive Bright, Pigeoneer. You can order copies of their books, including signed copies of Freeman's book, through the Web Store. https://store.poisonedpen.com/
I picked Dianne Freeman to highlight because she recently answered questions for an interview on my personal blog. I'm happy to share that interview here. Before the interview, though, let me introduce you to Freeman's book.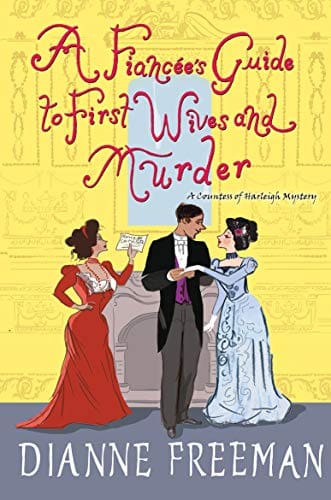 In Dianne Freeman's lighthearted mystery series set in Victorian England, the American-born Countess of Harleigh uncovers more deadly intrigue among the uppercrust…
For Frances Wynn, widow to the late Earl of Harleigh, life has a cosmopolitan flavor of late. No sooner has she sent her mother and daughter off on a shopping trip to Paris than she and her fiancé, George Hazleton, are socializing with visiting members of the Russian royal family. Yet amid this whirlwind, scandal also comes calling when Inspector Delaney turns up outside Frances's house with a young French woman with a shocking claim: she is Mrs. George Hazelton.
As the future Mrs. George Hazelton, Frances assumes the woman is either lying or demented. "Mrs. Hazelton," aka Irena, makes other outrageous statements. Among them, she insists that she is the illegitimate daughter of Russian royalty, that she has been abducted and held for ransom many times, and that someone is sending her threatening letters. When George arrives, he clarifies that he is certainly not married to Irena–though he can confirm her royal parentage. But even as he agrees to investigate whether Irena's life is in danger, her claim proves tragically true. Irena is found strangled in Frances' garden.
To uncover a killer–and clear their own names–Frances and George must determine which of Irena's outlandish stories were based in fact, and who stood to benefit from her death. And as the search reaches a shocking conclusion, they may find that villainy lurks all too close to home…
---

Dianne Freeman is the acclaimed author of the Agatha and Lefty Award-winning Countess of Harleigh Mystery series. A nominee for the prestigious Mary Higgins Clark Award from Mystery Writers of America, she is also a Macavity Award finalist. She spent thirty years working in corporate accounting and finance and now writes full-time. Born and raised in Michigan, she and her husband now split their time between Michigan and Arizona. Visit her at DiFreeman.com.
Enjoy getting to know Dianne Freeman a little more through the interview.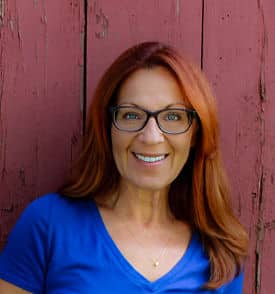 Thank you, Dianne, for taking the time to answer some questions.
Dianne, who were you before you turned to a life of crime? In other words, please tell us about yourself.
I was born and raised in Michigan, fell in love with books when I was around nine or ten, and with history not much later. Still, I was a practical kid and studied business. I worked in accounting and finance for thirty years, a career where being too creative can land you in a lot of trouble. Everyone I knew in this field was committed to a hobby that was either very physical or creative—the opposite of what we did for a living. For me, it was writing.
I came to publishing late in life, but for me, that's normal. I worked my way though college, so I didn't earn my degree until I was 32. I didn't meet my husband and fall in love until I was 41. We didn't get married until I was 48—you don't want to rush into these things. But writing was always there. My favorite thing to write was fiction—the first draft. It was just for my own amusement, so once I got the story down, I saw no reason to revise—until I retired. (The one thing I did early!) That's when I decided to write a book fit for others to read. At least that was my goal. I wrote the first draft of A Lady's Guide to Etiquette and Murder. Then I revised, and revised, and revised, and loved every minute of it. I feel very fortunate to have a second career in crime—writing.
Please introduce us to Frances Wynn, the Countess of Harleigh. You might want to introduce George Hazelton as well.
Frances Wynn is a former American heiress and now widow to the Earl of Harleigh. She had plenty of time to ponder life during her obligatory year of mourning for her scoundrel of a husband. She'd been a dutiful daughter, wife, and mother and now she wants a chance to make her own decisions and mistakes and live her own life. She makes that happen by moving out of the family home with her young daughter and into her own little house in Belgravia—next door to George Hazelton.
George is the dashing third son of an Earl, so while he is a gentleman, he can't expect to inherit a fortune and must make his own way in the world. He studied law and uses his knowledge and sense of adventure in his mysterious "work for the Crown."
George helped Frances out of a difficult situation in the past and is always on hand for a good investigation. As Frances grows more confident, she and George grow closer.
Tell us about A Fiancee's Guide to First Wives and Murder.
Now that Frances has her sister's wedding behind her, she and George can announce their engagement and plan their own wedding. The only thing standing between them and a lifetime of wedded bliss is—his wife.  When a young French woman declares herself to be a cousin to one grand duke of Russia and the daughter of another, an actress, the victim of several abductions, and Mrs. George Hazelton, Frances, his fiancée, thinks she must be delusional. When Frances finds the woman dead in her garden, she and George become suspects in her murder. To clear themselves and avoid a scandal, they have to weed through her many claims and determine which are false, which are true, and which may lead to her killer.
Society's rules and opinions in Victorian London dictate some of this book. Can you tell us a little about those rules, along with the life a widow might lead compared to a married woman?
While women had gained some advances by 1899, they did not have the independence we know today. If a woman was a member of the British aristocracy, the expectation was that she would always be dependent on a man—her father, husband, brothers, or sons—for everything. The only way out of that situation, was to have her own money. She could then afford to make decisions counter to those of the men in her life. Customs die hard, so she'd still have to deal with them trying to make her decisions, but financial independence meant she didn't have to listen.
Unfortunately, one of the few ways a woman of the upper classes could become financially independent was if her husband died and left her money in her own right. Many husbands did. Frances' late husband did not. Fortunately, upon her marriage, her father had set up a bank account for her sole use.
Even with financial freedom, the upper class with all their advantages, were expected to be models of moral behavior. Any deviation from expected behavior could affect their social standing and that of their families. Women, in particular, were careful of every step they took.
What kind of research do you do for your books?
I spend quite a bit of time in the British Newspaper Archive reading about crime, or just the daily happenings during the time frame of each book. That's where I learned that Grand Duke Michael Mikhailovich Romanov paid a visit to London and the British royal family in November of 1899. The newspapers alert me to big events I might want to include or avoid, and provide a wealth of detail such as typical wages for servants, the price of a hat, gloves, or rent, the weather, and if a typical house in town would be electrified or have gas lighting.
Once I write a first draft, I have dozens of notes for things I need to research. I had a little background on the Romanovs, but I needed much more for this book along with the workings of the House of Commons, women's activist groups, and the theater business. The British Library reference services has been helpful in the past, but with everything closed for Covid, I relied heavily on Google Books this time.
COVID and isolation affected authors differently, just as it did the rest of us. Some were paralyzed, while others found a burst of creativity. How did the last year affect you and your writing?
That period lasted so long that I went through a few cycles of high creativity followed by short periods of burn out. It was a roller coaster that I'd rather not ride again, but it made me so grateful that I have this career. Not only did I get to work from home, but I also got to escape to another world—one where Covid didn't exist, and I had control.
Frances and George team up to investigate murders. Who are your favorite detecting duos?
Even though Nora didn't really do much detecting, I love Nick and Nora Charles for their chemistry. For the same reason, David and Maddie from Moonlighting are high on my list. But my favorite detecting duo is Anne Perry's Thomas and Charlotte Pitt. They are wonderfully complex characters who both contribute to the outcome of the investigation.
If you had to recommend 5 books to a person so they could get a feel for your reading taste, what 5 would you pick?
These are my "go to" books that I've read multiple times. Scratch that. These are my "go to" authors. Any of their books are worth multiple reads.
Pride and Prejudice, Jane Austen
Citizens of London, Lynne Olson
In the Garden of Beasts, Erik Larson
Ashford Hall, Anne Perry
The Mischief of the Mistletoe, Lauren Willig
What's on your TBR pile?
My TBR pile is huge! Here's what's at the top:
Wild Women and the Blues by Denny S. Bryce (I still have about 50 pages to savor, so it's technically TBR)
In Royal Service to the Queen by Tessa Arlen
The Light of Days by Judy Batalion
The Windsor Knot by SJ Bennett
Arsenic and Adobo by Mia Manansala
Dianne, I'm a librarian, so I like to end with this. Tell us a story about a library or librarian in your life.
I rely on librarians often, but one I met long ago was very special. The summer after I turned nine, we had just moved to a new neighborhood. I didn't know anyone yet and there were still several weeks until school started. My mom took me with her to the library and sent me to the kids' section to find some books. I wasn't a reader at the time and had no idea where to begin. That's when the librarian stepped in. She asked me a few questions. I don't remember what they were, but I suspect they were about my interests, favorite subjects in school, and things of that nature. We were at the Southgate Public Library in Michigan and I don't recall the librarian's name, but I'll never forget the books she let me check out—Half Magic and The Knights Castle by Edward Eager. I returned a couple of weeks later for the rest of the series. Those books and that librarian, saved my summer and made me a reader for life.