Can you imagine having four books launched in one year? Brian Freeman told Barbara Peters, owner of The Poisoned Pen, that he has four books coming out next year. You can hear all about them during the virtual event. But, he was actually "at" the bookstore to discuss his second Jason Bourne novel, Robert Ludlum's The Bourne Treachery. There are signed copies available through the Web Store. https://bit.ly/34laNw0
Here's the description of Robert Ludlum's The Bourne Treachery.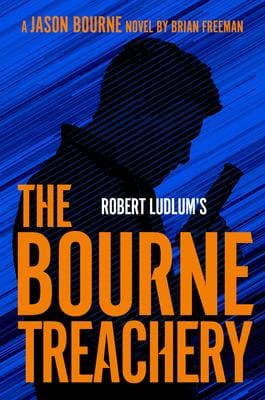 The world's most ruthlessly efficient assassin, Jason Bourne, is facing the one force he can't defeat—his own past—in the latest thrilling entry in Robert Ludlum's New York Times bestselling series.

Three years ago, Jason Bourne embarked on a mission in Estonia with his partner and lover, a fiery Treadstone agent code-named Nova. Their job was to rescue a Russian double agent who'd been smuggled out of St. Petersburg in the midst of an FSB manhunt.

They failed. The Russian died at the hands of a shadowy assassin known only by the nickname Lennon.

Now everything has changed for Bourne. Nova is gone, killed in a mass shooting in Las Vegas. Bourne is a lone operative, working in the shadows for Treadstone, when he's called in for a new mission in London—to prevent another assassination masterminded by Lennon.

But nothing about this mission is what it seems. As Bourne engages in a cat-and-mouse game with Lennon across the British countryside, he discovers that everything he thought he knew about the past was a lie. And with the body count rising, he comes to an inevitable conclusion: Some secrets should stay buried.
---
Brian Freeman is the bestselling author of more than twenty novels, including the Jonathan Stride and Frost Easton series. His Audible original, The Deep, Deep Snow, hit the New York Times audio bestseller list. His novels have won the International Thriller Writers Award and the Macavity Award and been finalists for the Gold Dagger, Edgar, Anthony, and Barry Awards.
Robert Ludlum was the author of twenty-seven novels, each one a New York Times bestseller. There are more than 225 million of his books in print, and they have been translated into thirty-two languages. He was the author of The Scarlatti Inheritance, The Chancellor Manuscript, and the Jason Bourne series–among other novels. Ludlum passed away in March 2001.
---
Enjoy the conversation with Brian Freeman.