Let's talk science fiction, apocalyptic fiction, and comic books. That's what host Patrick King from The Poisoned Pen discussed with Benjamin Percy, author of The Ninth Metal. That first book in The Comet Cycle is available through the Web Store. https://bit.ly/3wIgkK1
Here's the summary of The Ninth Metal.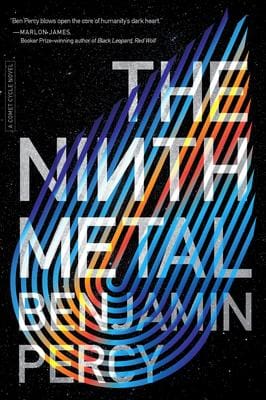 "[In THE NINTH METAL] debris from a comet drops a fabulously valuable new metal on Northfall, MN., turning it into a bloody, brawling boomtown. Great characters, fine writing, totally engrossing."
—Stephen King

"Take one part dystopia, one part sci-fi, two parts apocalypse, then ride them roughshod through a bleak and bloody western, and it still wouldn't get close to what Ben Percy does here, which is blow open the core of humanity's dark heart."
—Marlon James, Booker Prize award-winning author of Black Leopard, Red Wolf
"Whether you choose to think of him as the Elmore Leonard of rural Minnesota or the Stephen King of Science Fiction, Ben Percy—with his extraordinary and unrelenting eye—dishes up humanity like some kind of otherworldly blue plate special, at once deeply familiar and wildly new."
—Margaret Stohl, #1 New York Times best-selling author of the Caster Chronicles
"When Benjamin Percy publishes a novel, I have got to read that novel. The Ninth Metal continues his streak of thrilling, incisive genre bending goodness. It's a sci-fi novel, a crime novel and a super-hero novel, too. Audacious and intelligent and exactly what I was dying to read."
—Victor LaValle, author of The Changeling

IT BEGAN WITH A COMET…

At first, people gazed in wonder at the radiant tear in the sky. A year later, the celestial marvel became a planetary crisis when Earth spun through the comet's debris field and the sky rained fire.
The town of Northfall, Minnesota will never be the same. Meteors cratered hardwood forests and annihilated homes, and among the wreckage a new metal was discovered. This "omnimetal" has properties that make it world-changing as an energy source…and a weapon.
John Frontier—the troubled scion of an iron-ore dynasty in Northfall—returns for his sister's wedding to find his family embroiled in a cutthroat war to control mineral rights and mining operations. His father rightly suspects foreign leaders and competing corporations of sabotage, but the greatest threat to his legacy might be the US government. Physicist Victoria Lennon was recruited by the Department of Defense to research omnimetal, but she finds herself trapped in a laboratory of nightmares. And across town, a rookie cop is investigating a murder that puts her own life in the crosshairs. She will have to compromise her moral code to bring justice to this now lawless community.
In this gut-punch of a novel, the first in his Comet Cycle, Ben Percy lays bare how a modern-day goldrush has turned the middle of nowhere into the center of everything, and how one family—the Frontiers—hopes to control it all.
---
BENJAMIN PERCY has won a Whiting Award, a Plimpton Prize, two Pushcart Prizes, an NEA fellowship, and the iHeartRadio Award for Best Scripted Podcast. He is the author of the novels The Ninth Metal, The Unfamiliar Garden, The Dark Net, The Dead Lands, Red Moon, and The Wilding, three story collections, and an essay collection, Thrill Me. He also writes Wolverine and X-Force for Marvel Comics. He lives in Minnesota with his family.
---
Enjoy the conversation with Benjamin Percy.