John Charles from The Poisoned Pen introduces Kristan Higgins, author of Pack Up the Moon. (She will also introduce her dog in the video.) There are some signed copies of her book still available through the Web Store. https://bit.ly/35wwF8G
Here's the summary of Pack Up the Moon.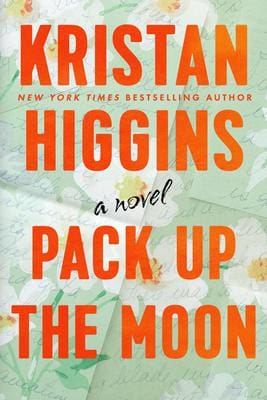 Every month, a letter. That's what Lauren decides to leave her husband when she finds out she's dying. Each month, she gives Josh a letter containing a task to help him face this first year without her, leading him on a heartrending, beautiful, often humorous journey to find happiness again in this new novel from the New York Times bestselling author Kristan Higgins.

Joshua and Lauren are the perfect couple. Newly married, they're wildly in love, each on a successful and rewarding career path. Then Lauren is diagnosed with a terminal illness. 
 
As Lauren's disease progresses, Joshua struggles to make the most of the time he has left with his wife and to come to terms with his future–a future without the only woman he's ever loved. He's so consumed with finding a way to avoid the inevitable ending that he never imagines his life after Lauren.
 
But Lauren has a plan to keep her husband moving forward. A plan hidden in the letters she leaves him. In those letters, one for every month in the year after her death, Lauren leads Joshua on a journey through pain, anger, and denial. It's a journey that will take Joshua from his attempt at a dinner party for family and friends to getting rid of their bed…from a visit with a psychic medium to a kiss with a woman who isn't Lauren. As his grief makes room for laughter and new relationships, Joshua learns Lauren's most valuable lesson: The path to happiness doesn't follow a straight line. 
 
Sometimes heartbreaking, often funny, and always uplifting, this novel from New York Times bestselling author Kristan Higgins illuminates how life's greatest joys are often hiding in plain sight.
---
Kristan Higgins is the New York Times and USA Today bestselling author of twenty novels, which have been translated into more than two dozen languages and have sold millions of copies worldwide. She lives in Connecticut with her husband, two children, and dogs. If you want to know when Kristan's next book will be out and hear news of her appearances, subscribe to her mailing list at www.kristanhiggins.com.
---
Enjoy John Charles' discussion with Kristan Higgins.