I've been waiting to share this conversation with you because it was so much fun if you enjoy traditional mysteries set in England. Connie Berry is the author of the Kate Hamilton mysteries, featuring an American antiques dealer in England. Her latest book, The Art of Betrayal, was the topic, along with antiques, when she spoke with guest host Jane Cleland. You can find signed copies of The Art of Betrayal, along with copies of Berry's other mysteries, in the Web Store. https://bit.ly/2w8VlGd
Here's the description of The Art of Betrayal.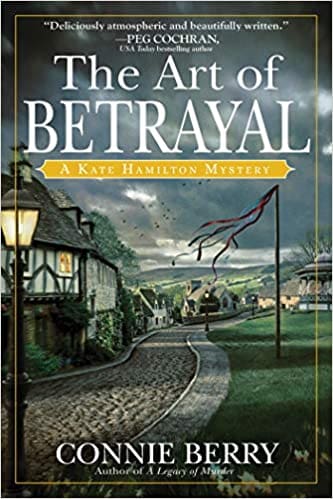 In Connie Berry's third Kate Hamilton mystery, American antique dealer Kate Hamilton's spring is cut short when a body turns up at the May Fair pageant.
Spring is a magical time in England–bluebells massing along the woodland paths, primrose and wild thyme dotting the meadows. Antiques dealer Kate Hamilton is spending the month of May in the Suffolk village of Long Barston, enjoying precious time with Detective Inspector Tom Mallory. While attending the May Fair, the annual pageant based on a well-known Anglo-Saxon folktale, a body turns up in the middle of the festivities.
Kate is even more shocked when she learns the murder took place in antiquity shop owner Ivor Tweedy's stockroom and a valuable Chinese pottery jar that she had been tasked with finding a buyer for has been stolen. Ivor may be ruined. Insurance won't cover a fraction of the loss.
As Tom leads the investigation, Kate begins to see puzzling parallels between the murder and local legends. The more she learns, the more convinced she is that the solution to both crimes lies in the misty depths of Anglo-Saxon history and a generations-old pattern of betrayal. It's up to Kate to unravel this Celtic knot of lies and deception to save Ivor's business.
---
Connie Berry is the author of the Kate Hamilton Mysteries, set in the UK and featuring an American antiques dealer with a gift for solving crimes. Like her protagonist, Connie was raised by antiques dealers who instilled in her a passion for history, fine art, and travel. During college she studied at the University of Freiburg in Germany and St. Clare's College, Oxford, where she fell under the spell of the British Isles. In 2019 Connie won the IPPY Gold Medal for Mystery and was a finalist for the Agatha Award's Best Debut. She's a member of Mystery Writers of America and is on the board of the Guppies and her local Sisters in Crime chapter. Besides reading and writing mysteries, Connie loves history, foreign travel, cute animals, and all things British. She lives in Ohio with her husband and adorable Shih Tzu, Emmie. You can learn more about Connie and her books at her website www.connieberry.com.
---
Enjoy the conversation!