The background of author Don Bentley fits perfectly for the latest Jack Ryan, Jr. novel, Tom Clancy: Target Acquired. And, guest host Brad Taylor has an interesting background as well, but you'll have to watch the virtual event to hear about their backgrounds. I'm not sure there are any signed copies of Target Acquired still available, but you can certainly order a book through the Web Store. https://bit.ly/3t6USvV
Here's the summary of Tom Clancy: Target Acquired.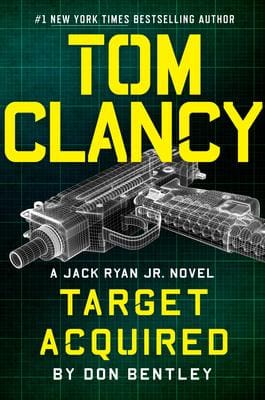 Jack Ryan, Jr., will do anything for a friend, but this favor will be paid for in blood in the latest electric entry in the #1 New York Times bestselling series.
Jack Ryan, Jr. would do anything for Ding Chavez. That's why Jack is currently sitting in an open-air market in Israel, helping a CIA team with a simple job. The man running the mission, Peter Beltz, is an old friend from Ding's Army days. Ding hadn't seen his friend since Peter's transfer to the CIA eighteen months prior, and intended to use the assignment to reconnect. Unfortunately, Ding had to cancel at the last minute and asked Jack to take his place. It's a cushy assignment–a trip to Israel in exchange for a couple hours of easy work, but Jack could use the downtime after his last operation.
Jack is here merely as an observer, but when he hastens to help a woman and her young son, he finds himself the target of trained killers. Alone and outgunned, Jack will have to use all his skills to protect the life of the child.
---
Tom Clancy was the #1 New York Times bestselling author of more than eighteen books. He died in October 2013.
Don Bentley spent a decade as an Army Apache helicopter pilot, and while deployed in Afghanistan was awarded the Bronze Star and the Air Medal with "V" device for valor. Following his time in the military, Bentley worked as an FBI special agent focusing on foreign intelligence and counterintelligence and was a Special Weapons and Tactics (SWAT) team member.
---
Enjoy the conversation about the authors' background, Jack Ryan, Jr., and writing.