Jack Carr, author of The Devil's Hand, recently hosted Stephen Hunter whose latest espionage thriller is Basil's War. Because Patrick Millikin from The Poisoned Pen said there are a dwindling supply of autographed copies of Basil's War, I won't promise there are still signed copies available. Check the Web Store. https://bit.ly/2RIl2I2
Here's Basil's War.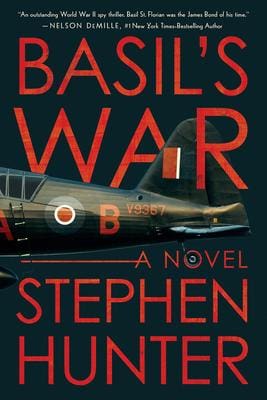 A British spy goes behind enemy lines to crack a secret code in this "highly entertaining World War II espionage thriller" (Seattle Times).
Basil St. Florian is an accomplished agent in the British Army, tasked with dozens of dangerous missions for crown and country across the globe. But his current mission, going undercover in Nazi-occupied France during World War II, might be his toughest assignment yet. He will be searching for an ecclesiastic manuscript that doesn't officially exist, one that genius professor Alan Turing believes may hold the key to a code that could prevent the death of millions and possibly even end the war.
St. Florian isn't the classic British special agent with a stiff upper lip—he is a swashbuckling, whisky-drinking cynic and thrill-seeker who resents having to leave Vivien Leigh's bed to set out on his crucial mission. Despite these proclivities, though, Basil's Army superiors know he's the best man for the job, carrying out his espionage with enough charm and quick wit to make any of his subjects lower their guards.
Action-packed and bursting with WWII-era intrigue (much of which has basis in fact), Basil's War is a classic espionage thriller from Pulitzer Prize-winning critic, essayist, and bestselling novelist Stephen Hunter.
---
Stephen Hunter won the 2003 Pulitzer Prize for Criticism as well as the 1998 American Society of Newspaper Editors Award for Distinguished Writing in Criticism for his work as film critic at The Washington Post. He is the author of several bestselling novels, including Time to Hunt, Black Light, Point of Impact, and the New York Times bestsellers Havana, Pale Horse Coming, and Hot Springs. He lives in Baltimore.
---
Enjoy the conversation between Stephen Hunter and Jack Carr.